Merry Christmas
offline
481 Posts. Joined 12/2004
From me and the kitties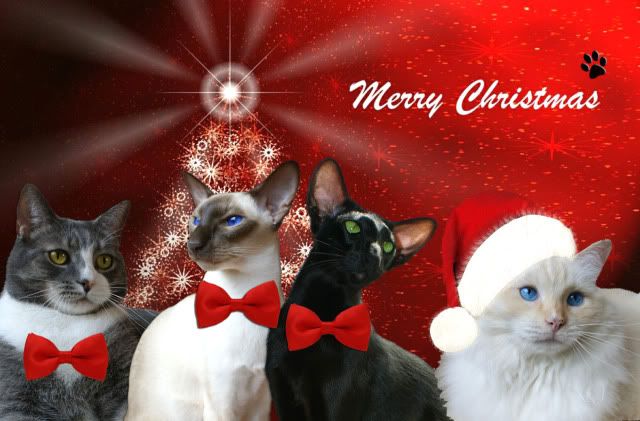 Babygirl you will always be missed.

offline
17,439 Posts. Joined 6/2006
Location: Birmingham
Hey Debby
How beautiful.
Binky made me laugh with his tie
Merry Christmas to you and your beautiful babies, too
offline
133 Posts. Joined 7/2008
Location: Glasgow UK
Love the picture, Merry Christmas too you and your babies
Until we meet again~daddy

offline
10,169 Posts. Joined 3/2006
Location: Podunk, Kansas
Awwww
Merry christmas to you and your babies
Kitties' Loyal Servant

offline
14,663 Posts. Joined 11/2008
Location: Corinth, TX
Stunning! You have unbelievably beautiful cats! WOW! Great card too!
offline
7,713 Posts. Joined 10/2007
Location: Michigan
Hmmm... darling kitties wrapped with bows for the holidays.. you could just send them here... I would even take them postage due!
All kitties need love!

offline
20,447 Posts. Joined 11/2005
Location: NE OH
Merry Christmas!!
offline
7,579 Posts. Joined 6/2007
Location: In the middle of BC
merry Christmas to you and yours. Your kitties look beautiful