The other night, Niko and I were playing with his favorite fishing pole toy when he skidded something hardcore against the carpet, I could hear the sound of his claws digging in. The next thing I know, he's no longer interested in playing. I look down and I see.. a claw.
At first, I thought it was a whole claw, but when I inspected all his toes, he still had all of them. I was so confused (and worried!) After a better look, I realized he had split his claw in half. I can't possibly explain how it split, so I found a picture of a claw and shaded the part that came off in red.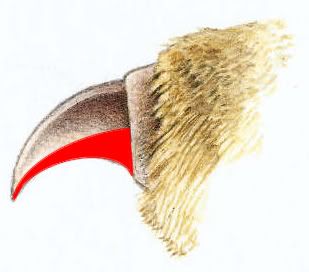 There was no blood when he lost it, and he's not limping, but I'm worried. I don't believe the quick was harmed, but I can tell by the way he goes to climb up on my chest that he's not putting all his weight down on that particular foot. He still wants to play, but he'll start to run around and the moment he needs to skid to a halt on the carpet (how he broke it in the first place), he just does a little hop and lays down. He's been incredibly mooshy and clingy, which he usually is anyway, but now it's even moreso. I feel so bad, 'cause he's obviously uncomfortable and just wants to snuggle.
My question is.. will the claw grow back properly? Is it kinda like how we humans can break fingernails below the line- it smarts for a while, but it's not serious? Any feedback would be greatly appreciated.