We Ahh Huntin' Wabbits!!
So, out of a mild necessity to find something for my mother this year for Christmas, I went hunting for a pattern for something to make for her. Now, here's where things get difficult: she has few hobbies, except crossword and jigsaw puzzles. She used to do a LOT more, but due to senility/Alzheimers (long story there), she has ceased all hobbies. Last I had talked to my dad about her a few months back, she was still baking (and baking...) cookies, but when i talked to my dad a few days ago about her, he said she has even stopped that. So, I went hunting...
I found a silly little pattern for stuffed bunnies (and kitties and dogs, but bunnies have a significance here)... so I bought some camel-colored fleece and made one. Now, I'm hooked. I want to make them for several friends, in different types of fleece, of course... so here's Patient Zero. The Christmas Bunny. His eyes are a little odd, and his nose isn't quite perfect, but that's what I get for trying to sew them with embroidery thread instead of doing what the patterns says (stock safety noses and eyes). he went together quite easily, I think...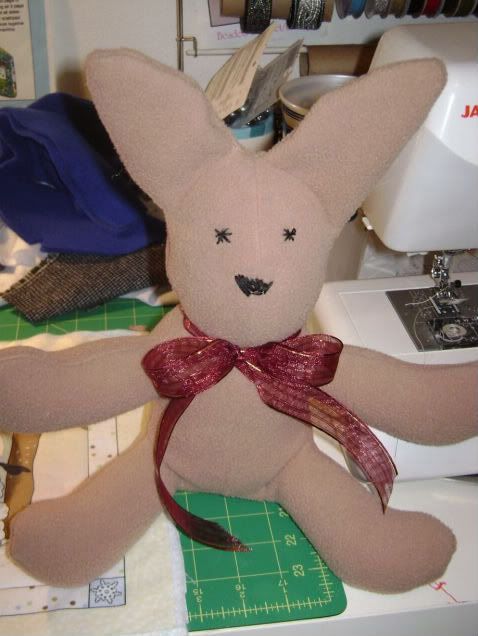 The significance of bunnies with my mother is that she made it a point to buy me stuffed bunnies every chance she got... and I would, in return, buy her bunny slippers on her birthdays and Christmases.
I'll be making some in different colors, for specific people... including a couple Goth Bunnies for my best friend's teenage daughters...
What do you think?
Amanda