Just wanted to give everyone an update on the kittens.
Sadly, the shelter adamantly refused to give me info on Sarah and Ellie's adopters, so I'll never know how they're doing. I pray for them often, though. (Wish I could just move on, but don't know how to let it go. *sniff*).
Heather and Spencer, however, are doing GREAT! Heather's coat finally grew out of it's scraggly scruffy stage (we used to make fun of her soooo much, she just looked awful, especially her tail *chuckle*). She's as crazy as I thought she'd be and still very much a go, go, go kinda kitty. She likes to be petted, but only for very short periods at a time and she detests being picked up - she's more of the "drive-by-petting" persuasion.
However, she sleeps on my bed every night and occasionally does come looking for scritches. I expect as time continues to pass, she'll mellow even more.
Here's some recent photos of her...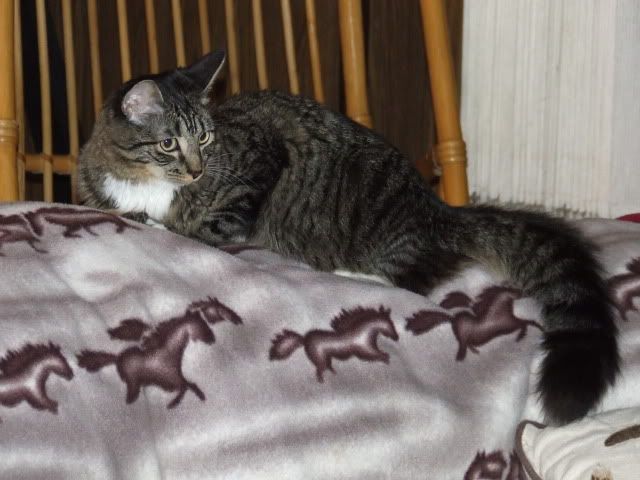 Is she not beautiful? :-)
Spencer still retains some of his skittish ways. Like Heather, he doesn't like being picked up. Unlike Heather, he's constantly on the defensive about it and he'll use his claws as deeply as need be to enforce his preference. He's also very strong; I've never met a cat this powerful. Our annual vet visit is in two weeks and I'm kinda dreading it, as I have this awful certainty that the vet, or me, or both of us is destined to lose some skin.
On the other hand, his purr is just as loud and quick to sound as ever. He still sleeps on my pillow at night, as close to my face as he can get. Lately, he's even been laying his shoulders and cheek right ON my face, purring so loudly, the whole bed vibrates.
It's pathetic, I know, but his affection seems so profound sometimes it makes me want to cry. His presence often interferes with my sleeping, but I'll never want it any other way.
Here are some of his pics...
But best of all, and the reason I thought to update this post; I am very happy to report that after missing Jasmine for over a year, Allen has finally accepted a new buddy. *sniff* It's been a long time coming - Spencer's integration into my furfamily was done with this end partially in mind - and it's wonderful to see this hope realized.
And just cause Allen's my heart kitty, here's another pic of him. Can you just see the love?