So after reading on another forum how effective a limited space is in socializing ferals, I bit the bullet and moved my four feral kittens (see original post
here
) into my bathroom. It took just as much chasing, spitting, hissing and clawing as I was afraid it would, but it's done and WOW, what a difference it's made.
CindyLou, the tabby, is a real character. She never stops moving, ever. She's all over my lap, up in my face, checking out the camera, everything. She still runs when I stand up or approach her on foot (they all do), but I am very happy with her progress.
Sweet CindyLou pic.
Checking out the camera.
Remo, the kitten I was most concerned about, has decided he absolutely loves to be scratched and petted. He has taken to pushing his little head under my hand when I'm petting another kitten and tonight, finally, finally, he let me scoop him up and place him in my lap without freaking!!!! He stayed a long time, too, for his first time! All the while, I loved on him and cooed to him and thanked him for trusting me after everything I'd put him through.
Here he is patting my hand.
And giving me little love nips.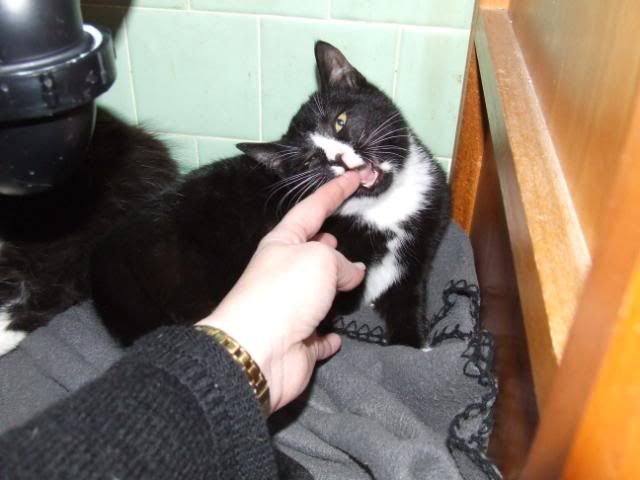 Ellie and Sarah are still jumpy, but both of them will settle in my lap quietly purring for a minute or two before they begin to get antsy. And they will eat with me sitting right next to them, as long as I move slowly.
Here's Sarah (she was the last kitten I caught). Isn't she lovely?
I couldn't get a good pic of Ellie, as she's still a bit afraid of the camera, but here's one of Remo and Ellie (in front, left and right respectively) with Sarah hiding in back. And, yes, Remo and Ellie are almost identical. Ellie's nose is slightly different and her back legs have more white (Remo has four perfect white paws) and she's a wee bit smaller than Remo, but you have to look really close to tell who's who.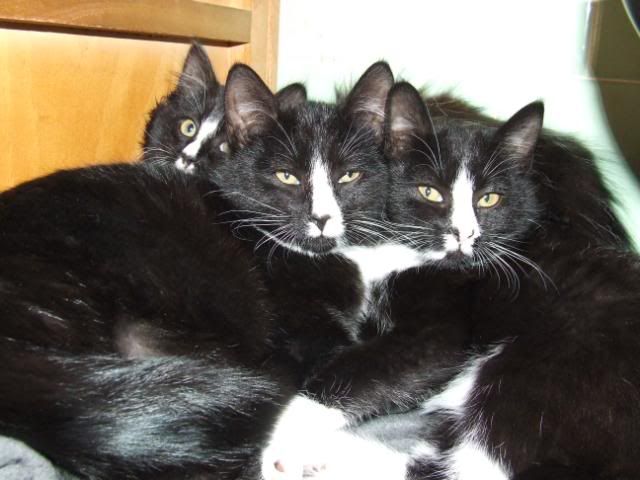 I truly had no idea how much time and effort would be needed to socialize these guys, but I'm grateful I was able to intervene early enough to make a difference for them. I only hope that 1) I have the strength to let them go when they're ready and 2) that whoever adopts them loves and cares for them as much as these little babies deserve.
P.S. Catchy title, eh?
*grin*