So, Cronos got adopted, along with most of the Meow Men. The remainers, including Sam, went off to adoption fairs, freeing up my "foster fairground" for more, younger fosters! Seems the foster lady like to use me as a nurse maid, for young, sick fosters, too small to be fixed and therefore be adopted. So I'm going through the babies very quickly!
These babies, as are they all, seemed to have issues. We thought they had coccydia, which I am treating them for, and their poop is getting firmer so I think we're on a good path! But now, one seems to have kidney issues...
Well, enough intro, you all are here to see the pictures!!
All three babies, left to right, Karin (girl), Aizan (boy), and Rukia (girl):
Karin and Aizan: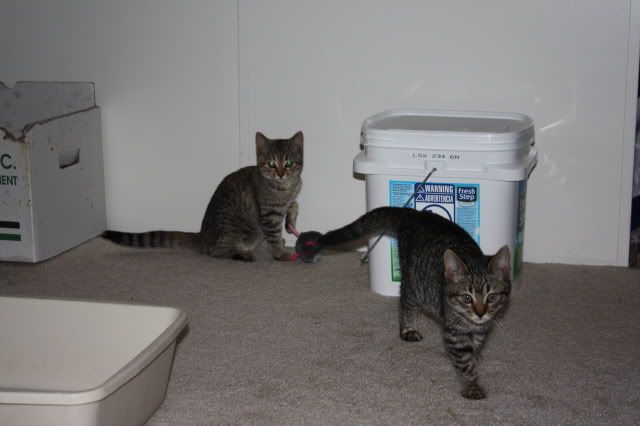 Rukia, the poor little girl that may have a kidney infection...
Karin. Anyone know what color she is?? She's like a grey... Tabby? But with orange spots! Does that make her tortie? No matter what, it makes her CUTE.
Lookit that spot!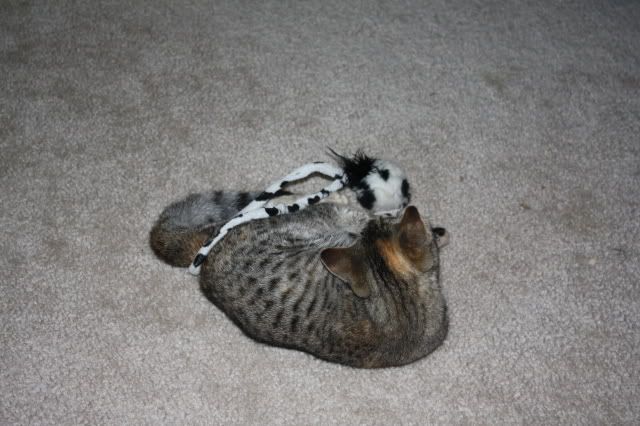 And that orange spotted raccoon tail!
And, last but not least, my little trouble maker, the only boy, Aizan. His name is pronounced very loosely like "eyes on", and his nickname is now "eyes on trouble"
Sure, he LOOKS innocent...
But see that mischevious glint in those eyes??
Naturally, he was the first one to make it up on the windowsill!
And, my new favorite pic! He wanted my soup something awful, but I wouldn't let him near it, so he tried to sneak up on it from the garbage can. Well, he doesn't have very good balance, and I snapped this pic RIGHT AS he knocked the entire thing over!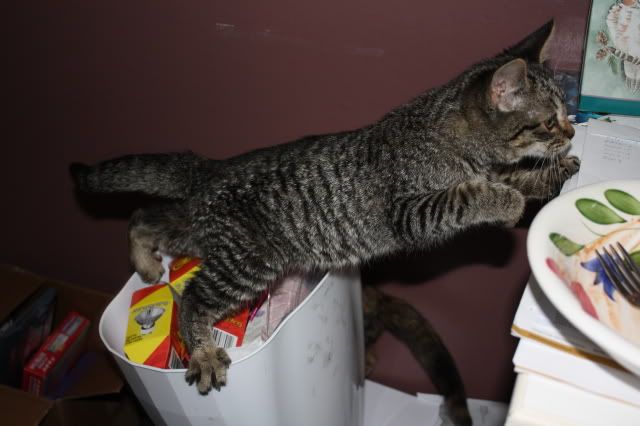 If you can spare any vibes, these guys may be sick, and could use them! Rukia at least has something, and just 'cause I haven't noticed any bloody pee from the others doesn't mean they don't have it! Thanks!