I have been volunteering at the shelter for a few weeks now. I'm one of the volunteers that takes pics of the cats (and dogs, turtles, hamsters, etc.) up for adoption. It's a lot of fun, but man those kittens are squirmy.
I thought I would share some of my pictures. Most of them have been adopted by now, but not all. I hope you enjoy!
This first girl is about 2 and we've had her since November 9th. She was found in a trailer park. Something happened to her back leg and they had to amputate it, but she does really well with only one back leg. This is the *only* lap cat I've ever encountered. She just crawled right into my lap, sat there, and purred in the visit room where I was taking pics. Then, later, she jumped up on my lap and did the same thing. I hope she finds a good home soon. She was hard to get a picture of because she kept trying to sit on my lap.
These 3 kittens (litter-mates) were adopted within 1-2 days (not sure if they went to the same home). They were a fun group! Climbing in trash baskets, chasing toys, they were hilarious. The first one was the most playful I've ever seen. The second was really reserved and didn't want to play, but I got a picture of her with a toy anyway. The last kitten was a little ham, I love that he looks like he is smiling.
This guy has really pretty eyes and is still up for adoption. I think he's been there since November 12th. He's about 1.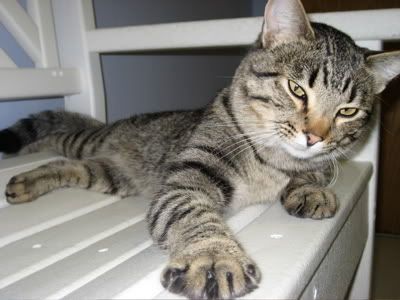 I would have loved to take this little guy home! I love long-haired cats. He was adopted very quickly (within 1-2 days). Very mellow and fluffy.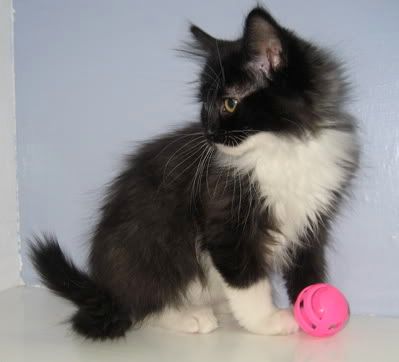 This one is supposed to be 4 months old but he's awfully tiny. Very cute kitten, but really hard to get a picture of. Was more interested in the voices he heard outside the room than he was in the toys or treats. He's still up for adoption and has been there since Nov. 12th. His old pic was a blurry one of his face turned away, so hopefully the new one helps him find a home.
This long-haired 2 year old cat was awfully skinny and loved head scratches. If I had more time, I would have really brushed her because she needed it. She had hair coming off everywhere (Mattie was that way when I first adopted her). She was also hard to get a picture of, I'm glad she finally sat still. She's also still up for adoption and has been there since Nov. 12th.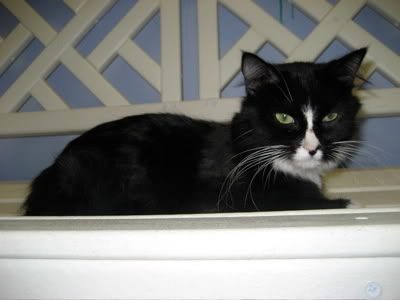 Cute right?
We don't have a time limit on adoptions. Once cats are deemed adoptable, they are there until they find a home. I try to avoid the stray/intake room because I know not all of those cats make it to the adoption area. Our shelter put-to-sleep rate of incoming cats and dogs is fairly low compared to other shelters in the country.
I'll probably post a few more pics in this thread over the next few months. I can't help it, they are just all so pretty
.