No homework today
offline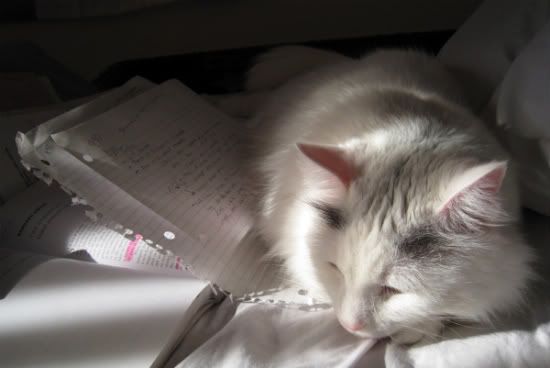 Apparently my schoolwork equals a comfy bed.
offline
894 Posts. Joined 9/2007
Location: KiTTYDELPHiA, CATSYLVANiA
Your cat is beautiful!
offline
21,085 Posts. Joined 7/2006
Location: Winnipeg, Manitoba, Canada
Awww! That's as good of an excuse as I can think of to not do homework!
offline
103 Posts. Joined 10/2008
Location: Bosque Farms, New Mexico
awwww that is a very cute picture.
A cat is just a bundle of purr

offline
20,325 Posts. Joined 6/2005
Location: Colorado
What a beautiful picture. It highlights your cat wonderfully.
Babygirl you will always be missed.

offline
17,439 Posts. Joined 6/2006
Location: Birmingham
What a beautiful cat. I would love to see more pics.
What a beautiful pic, too.
offline
3,045 Posts. Joined 11/2006
What a beautiful furry excuse for not doing your homework!
offline
287 Posts. Joined 10/2008
Location: Nashville, Tennessee
I have the same problems with written instructions to anything I'm working on. Angel figures even a piece of paper is good to lay on
offline
7,579 Posts. Joined 6/2007
Location: In the middle of BC
A very good excuse
offline
949 Posts. Joined 10/2007
Location: ny
Make sure you give the evidence to your professor