Molly, Max and Maggie and just about 7 months old now, so I thought I'd post the most recent pics I've taken of them. This was a week ago or so just after they finished "helping" me make the bed.
They are at that age now where it's harder to tell that they are growing, but when I look at past pics I can definitely see a difference! I also weighed them the other day, and Max and Molly are around 8 lbs with Maggie at about 7lbs. They are not fat at all, so I'm guessing I'll have some decent sized kitties on my hands once they are full-grown!
Oh, and those who remember previous photos of Molly, her stripes are really starting to come out stronger on her body now. I'm not sure if it's just her winter coat coming in or if this is permanent. She has been shedding more noticeable that her siblings, so something is definitely changing! Okay, enough from me...here are the pics! (click for larger image)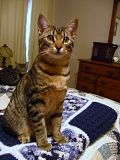 Whatcha doin' mom?
Max loves posing for the camera!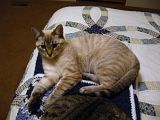 Molly's new stripes!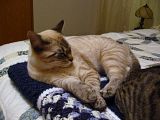 Such a pretty girl...
Maggie showing off her bunny-spring back legs.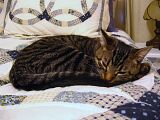 I'm sleepy, mom. Don't bother me.