It's a new camera, so I'm not good with it yet (not that I'm ever that good).
But... Billy & Bing were "just" two kitties we TNR'd. But they "friendlied" up so quick, and talked so much it was apparent soon enough they weren't feral. We don't know how long they were living outside, but they're both over a year old.
We live in an RV with 6 kitties, so we couldn't bring them in to foster. However, we got really lucky and found a fabulous home for Bing. He's loving being a lap kitty in his new home - has been there two weeks now.
With the weather getting colder, we could not find it in our hearts to leave Billy alone outside. He and Bing were VERY close. We have an immune-compromised kitty, so off to the vet Billy went. Turns out he had giardia, so that was treated and he got a clean bill of health before we brought him home.
Living in the RV, we are very limited on our ability to separate an adult kitty. We've done what we could. There's been very little hissing and swatting. Poor Billy just didn't have that concept of "kitty space" at first, and tried to headbump a number of our kitties - who did NOT understand what he was doing!
Fortunately, Shelly, after his initial trepidation, turned into the ambassador kitty he usually is (even though it's been 3-4 years since we intro'd a new kitty).
Billy is the B&W kitty that just has the "spots" of white on his face with the triangle of white on his chest (and is ear-tipped) (Shelly and Tuxedo, our other B&W kitties, have black masks).
Billy is SUCH a lover! His first night home (Wednesday, Nov 5)
Today, after the period of intros is basically done, and the other kitties aren't freaking about his being here (Lazlo is in the box on the couch, Shelly and Billy are on the back of the couch, Shel is on the left, Billy on the right, and I don't know if you can see her, but Ming Loy is in the chair on the pillow on top of the printer) :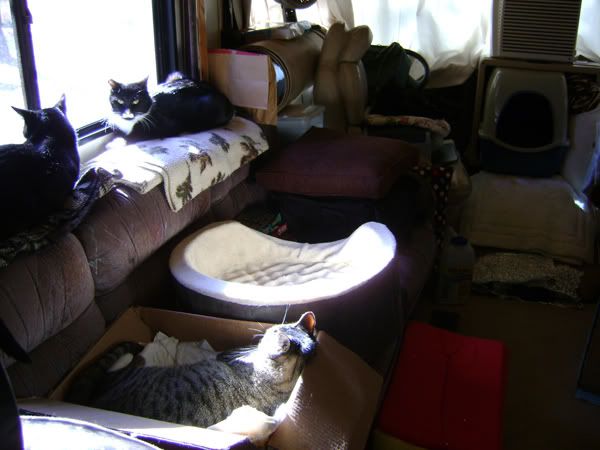 Shelly & Billy: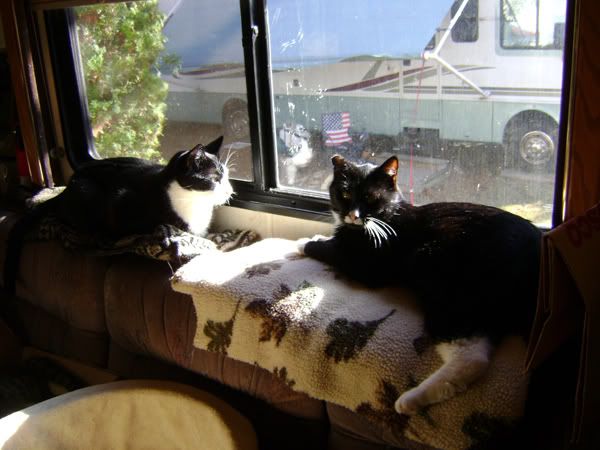 Billy, just relaxing in the sun: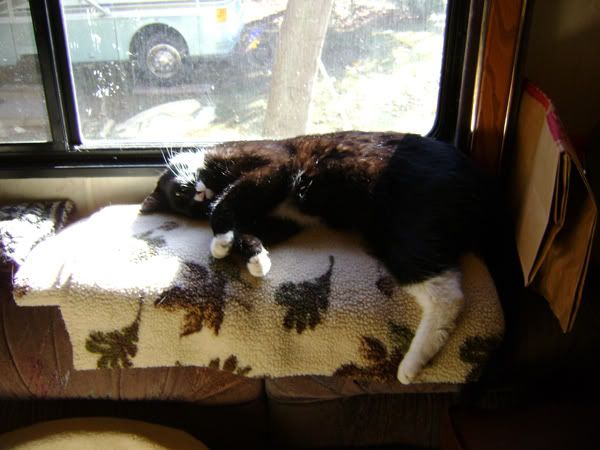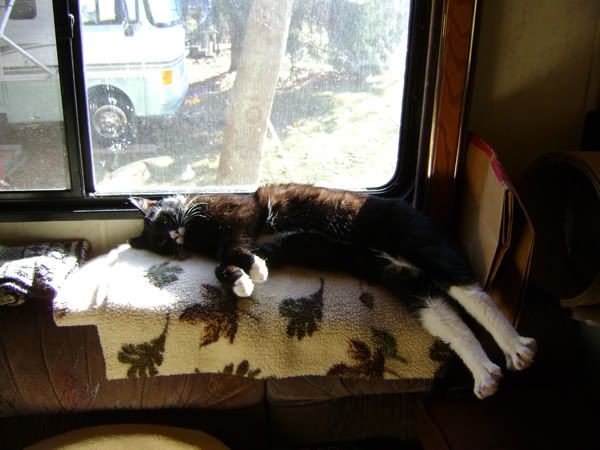 Laurie