Another needy kitten has walked into my life. Meet Noodle! He was found wandering outside my friend's apartment. Due to her landlord's foolish superstitious notions, my friend is unable to keep Noodle and sought my help to rehome him.

Unfortunately, Noodle's health is a growing concern. The first thing I noticed about him (apart from the fact that he is SO gosh-darned adorable) was that he was super skinny. This bag of bones may also have a more serious underlying health issue as he looks like he's using a lot of energy to breathe.

I first saw him on Saturday evening, most vet clinics were already closed for the day. Finally found a tiny vet clinic which I don't really trust. But since I thought it would just be a routine check up, I brought him in anyway. The vet assured us that there was nothing wrong with him, aside from being dehydrated. She gave him some subcutaneous fluids and sent him home.

Since then, he's been getting regular feedings of good canned food and lots of fluids, but his breathing hasn't gotten better.

Worried about him, another friend decided to bring him to another vet clinic yesterday, and they said his heartbeat is very soft on one side which may be the result of water in his lung.

Unfortunately the clinic they sent him to did not have an xray machine, so I will be sending him to a trusted vet later this evening after work.

I really hope the little guy will be alright. He's such an affectionate little fluffball! Some pics...

Resting on the bed.



Resting again my friend's arm. You can see the tip of his tongue sticking out! He's always forgetting to keep his tongue tucked safely inside his mouth... No idea why.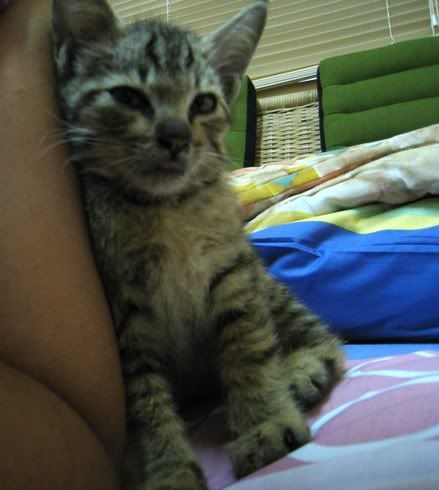 Having a snooze... Something he does alarmingly often.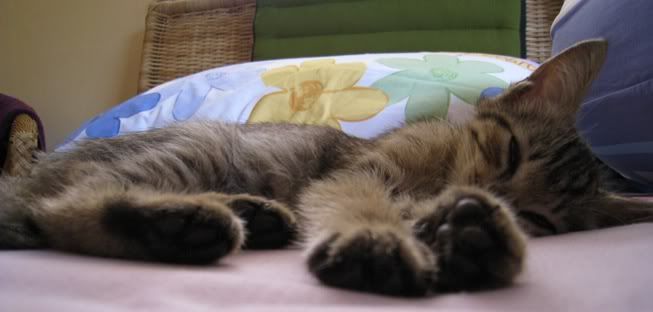 Resized version of the first picture
(Thanks for the heads-up, Rosiemac!)