Spent Sunday at Noah's Ark in Malaysia, which is an animal sanctuary set up by Singaporeans.

I have posted some pictures of a small proportion of their kitties in the Cat Lounge (link provided below). So here are the pictures of their doggies and horses! Oh.. and one macaque plus three snakes.

The journey from Singapore to Malaysia was quite an adventure itself. The bus left without us at the Malaysian customs, and the next bus would only arrive in an hour's time - so we hitched a ride from a bus which was bound for Kuala Lumpur. It dropped us off by the side of the road, where we had to climb down a steep slope via a huge drain, and cross a highway to get a taxi. The taxi driver then proceeded to get lost, but we eventually made it to Noah's Ark.

First glimpse of the sanctuary. The horses were running free, but I couldn't catch any of them on camera.



A few dogs live outside, the rest of the 700 (yes, you got the number right) live inside the sanctuary itself.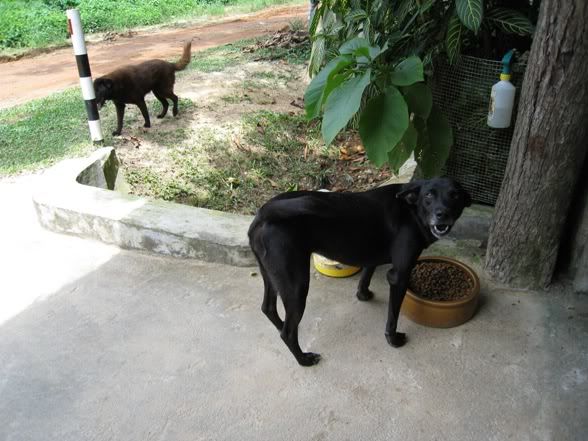 This black girl is extremely affectionate!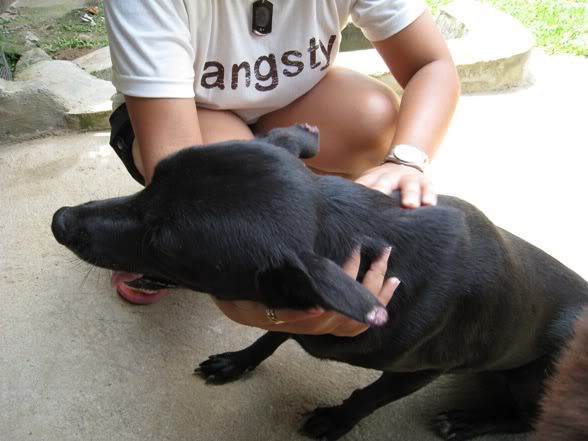 A lonely tail... Who does it belong to?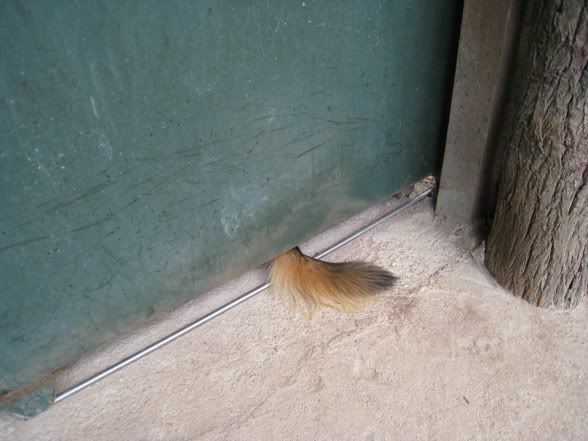 This guy! He's waiting for someone to open the gate so he can meet the visitors.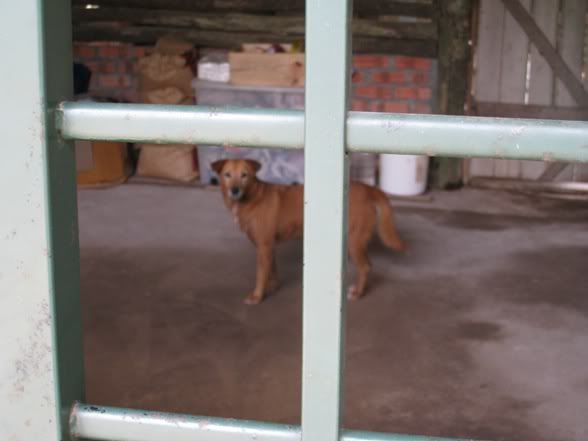 Peek-a-boo!



An extremely affectionate, kissy, smiley Staffordshire who was nearly put to sleep because he is of a "dangerous" breed. I think humans with such warped thinking should be put to sleep instead. And they should be made to pay for their own procedure!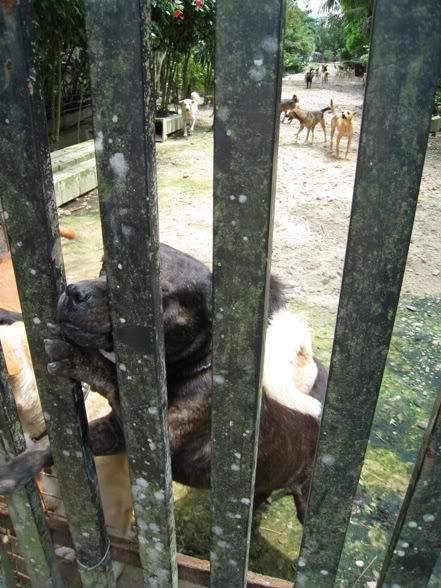 When we got in, we were invited upstairs for a briefing before the tour began. Most of the dogs are not allowed upstairs because there are a few cats living there. This persistent one kept yelling to be allowed through the gate.



With all those dogs occupying the stairs, climbing this flight of stairs was as precarious as rock-climbing!



A beautiful Irish Setter.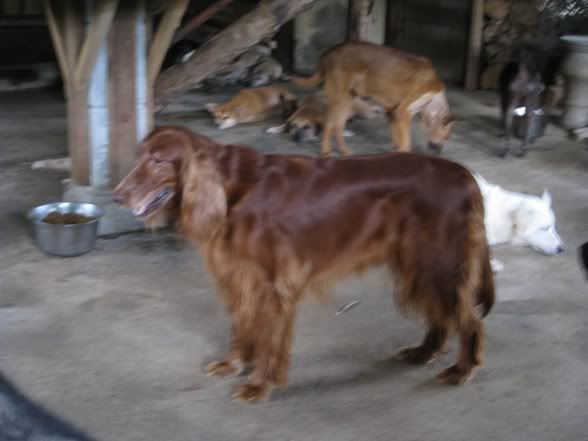 The dogs have a HUGE space to roam around.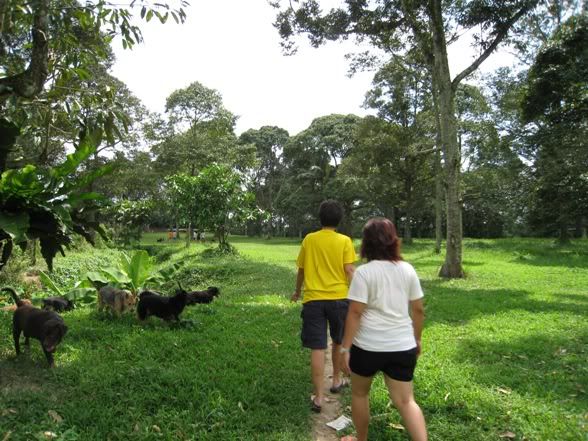 They interact with the horses. There are some dogs who actually live in the horses' stalls. Each horse has a favourite dog. How sweet is that?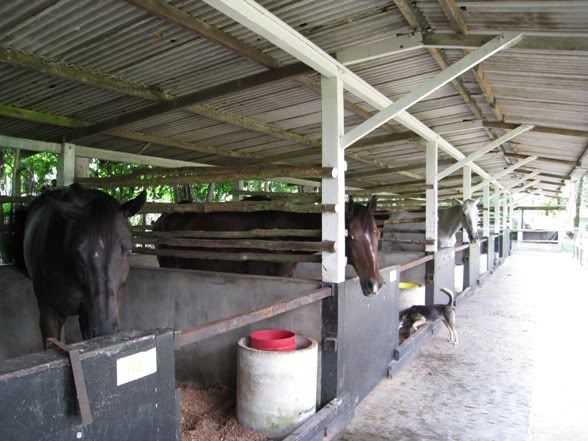 Majority of the horses are ex-racehorses who would have been put to sleep if their owners had not loved them enough to send them to Noah's Ark. Here, they get to roam the huge grassland for hours everyday, before going back to their stables.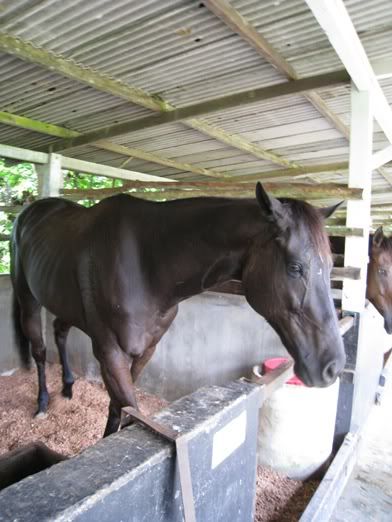 This female pig-tailed macaque is too used to living with humans to be released into the wild. In Malaysia, you can pay RM10 for a license to keep a macaque. This macaque's ex-owner kept the macaque baby when she gave birth, and gave the mum up. She's at Noah's Ark now, in a cage that (IMO) is too small for her. She pulls dogs' tails for fun, and spends the rest of her day pacing over and over again, quite sad to watch.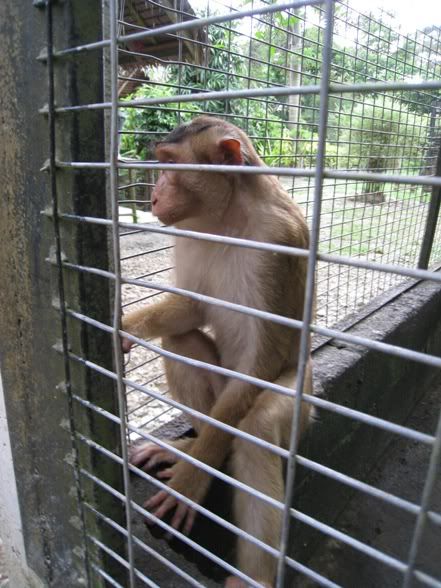 This is her enclosure.



Last picture.. Just to give you an idea of how difficult it is to walk anywhere without stepping on a tail or paw!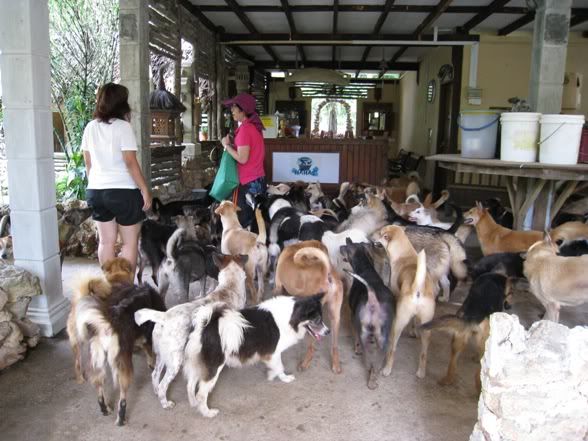 Hope you enjoyed!

Visit the kitties of Noah's Ark here!

Here's a link to Noah's Ark website for those who are interested.