I can't believe it - I took my new little kit (that Bonaparte found) into the shelter yesterday for testing and vaccine and a family have decided he is theirs! They cannot have him yet - he is still too wild and his litter habits are to say the least irregular. So I shall keep him for between 15 days and a month and as soon he is ready they will take him, They have signed the papers and are very excited.
But what colour is he? Even the vet was stumped. He is not a red tabby or a brown tabby, but in some lights looks a bronze gold, and sometimes a sandy red, and at others brown. So far we have put 'fauve' on his papers, which in French means the colour of a wild animal, like a puma or lynx, but it is certainly not an official cat colour.
Here are some pix and it is clear the camera couldn't decide either.
With the sun full on him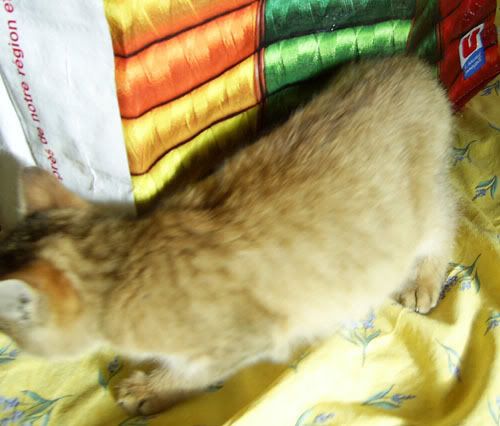 In the shade