Yesterday I met Bonaparte trotting up the gravel path with this little creature at his heels, trying to keep up.
He fled under my daughter's car but was soon tempted out by a bowl of food. And although he is very wild and bit me when I got hold of him, I now have him in a cage. He went on to eat a further three bowls yesterday, as he is skin and bone.
He is naturally scared to death, though calmer today, and has stopped leaping round trying to escape from the cage. I was even able (with a glove on) to touch him between the ears.
But he does like to be around the other cats, meows and reaches out when he sees them, and Bilbo particularly is very keen on being friends.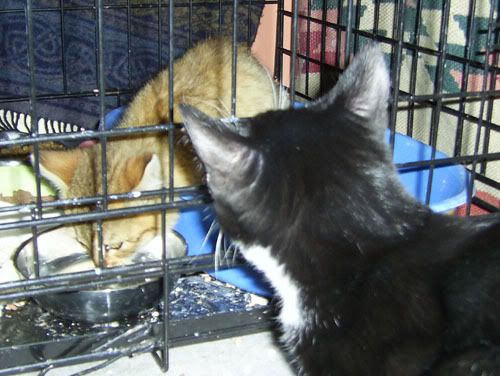 I reckon he is around 10 weeks old, and probably the kitten of the tabby female that was around all summer, though I have not seen her for several weeks. It is more than possible in that case that Ginger Tom is the father, as he was floating round my fields during that period. So I will try and socialise him and then as before he will go to be adopted.
I can just imagine Bonaparte finding him and inviting him home for a good meal!