Quote:
Originally Posted by
Momofmany
I bet I know who this is!! Not a lot of Bears fans here (we recognize each other).
She even ordered from you!
Ok, I'm back and boy... thoses treats were delicious!
So, first I have to say that the box was HUGE! I had a hard time wrestling it inside with a grocery bag. But I managed... all in the name of the dark side. There were so many packing peanuts it was like digging for treasure trying to find all the packages inside.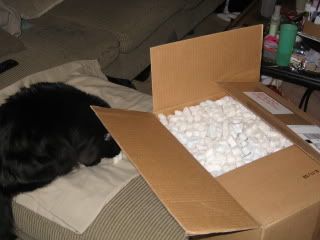 Here's everything still wrapped and pretty! (that didn't last long but I was tempted to save the cute kitty paper.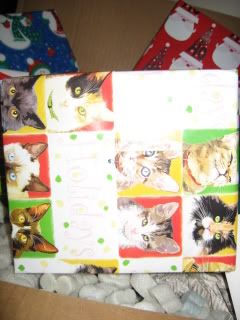 Inside the box wrapped in kitty paper were a bunch of smaller presents.
The kitties knew this was their box.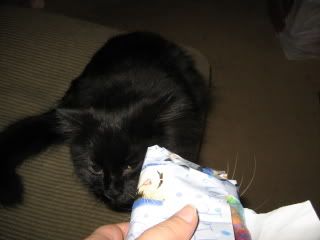 The first thing they wanted to open were "Catnip Buddy"s from Auntie Em's creations. They went nuts for these things and now they are both crashed out after a really good nip buz!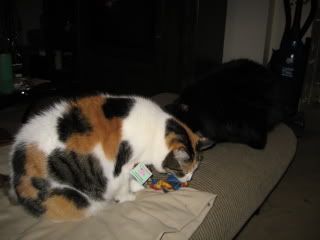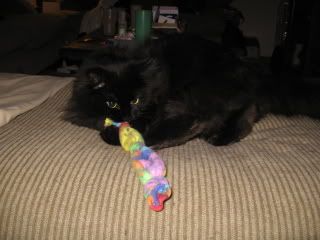 She also sent some other cat nip things called Hot Cats
For me there were some delicious smelling & tasting "human treats". They almost looked too good to eat... almost! (and the cute card with my hints in it)
A great purple Endless Whimsy cat playing. The pictures don't so it justice I don't think. It was cleverly disguised in a Logitech box.
There was also a Clever Cat Trick Kit with "10 tricks your cat MIGHT learn". LOL And a baby knits book for beginners including the basics of knitting. Must get out needles and try to learn again. The babies in it are so cute and so are the patterns. And for the kitties there were also 2 kinds of treats. I only opened one of them and Frankie tried to eat my finger she liked them so much. Last for the kitties there were some feater toys which I'm going to get out later I think.
Frankie jumped up and I don't know if she wanted her Buddy or her perch so I gave her both in the end.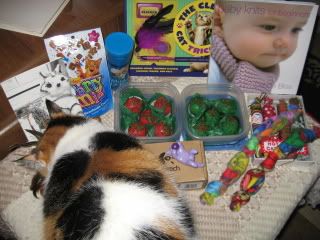 Oh, I suppose I can spill not that she's confirmed it. My wonderful SS was Jade/emrldsky. Now I have to ask, can you share the recipe for those treats? There were gooey and wonderful and just the sweet I was looking for tonight!