OK, so here are the photos of my wonderful gifts. These came from an "Elf" because my SS had to drop out due to things beyond his/her control. I don't know who Santa's Elf is just yet, but what a wonderful job that Elf did.
Here is Jordan & Maggie investigating the box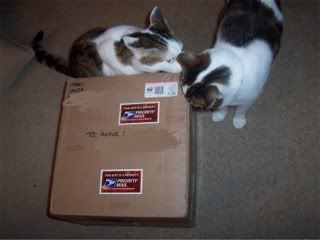 Here's all the presents that were in the box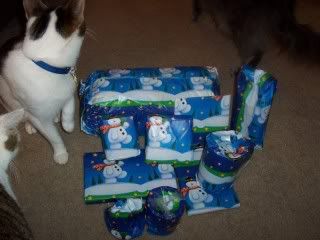 Everything unwraped (Jordan needed to know what everything was)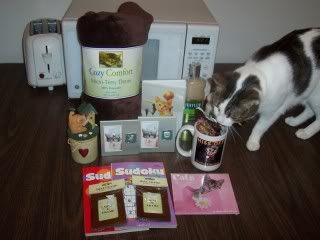 Isaac & Maggie checking it all out.
IN the box was ...A wonderful soft blanket, A cute kitty calender, a kitty photo book, 4 kitty photo frames, an adorable candle, 2 Sudoku books, A TCS Mug with hot chocolate & some bath & body works bubble bath & lotion. The Bath & Body works stuff smells wonderful, and now that I have my own soft blanket, Jordan can keep the one that he stole from me.
Now the cats get to have thier fun.
Maggie in the box,
Levi in the box
Much to my supprise Isaac wanted nothing to do with the box or the paper,
Jordan after he tipped it on it's side the way he wanted it to be.
Thank You to my Elf!!!!!!!!!