Once we moved to Philadelphia, we realized we had a ton of space and I had always wanted two cats. We started looking and found this little guy who had been fostered. His spine is fused towards his rear, so he kind of waddles and kicks his leg out when he walks. He can't jump very well, but it was congenital and does not seem to be causing much pain at all. We went and met his foster mom, and he decided he quite liked us and I was in love at first sight
So we brought him right home! I had his room all set up-- Zissou is still deciding how she feels about all this
The hissing at the door is already subsiding, so that's a good sign for the days to come.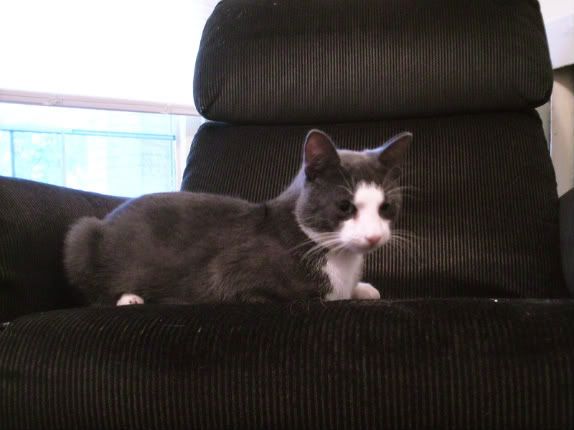 His coat is (the gray part, his belly/paws are all white) classic tabby, but you can barely tell he isn't just one color gray. And his little toes alternate pink and brown--- adorable!
He's near a year old, very playful, very outgoing. It's hard to imagine him the way the fosters described him, timid and hiding. His personality is so much like Zissou's it's almost uncanny. I'm sure when they finally meet they will be inseperable!