Hey Guys!
My partner and I adopted this beautiful cat two weeks ago from a shelter. She's four months old, and as far as I've been able to make out she's a tabby with mackerel markings...
Never having had a cat before, I really don't know much about the breeds or anything. So, I have a few questions:
- Am I right with my guess about her being a medium-hair mackerel tabby? (I sure hope I'm right because that's the reason we named her Mackerel. XD)
- Is the 'tabby' part a colouring, like brindal in dogs, or a breed, like dalmation in dogs?
- Can anyone tell me more about her origins? I've tried to pick out two photos which show both her back and her belly.
- Will her markings stay like this as she gets older? Or will they get more/less distinct? Darker? Lighter? Anything.
- At the moment she has beautiful fur- the softest thing I've ever touched, I swear. XD Does fur in cats get coarser as they grow older?
Hope you guys can help me with my curiosity!
J.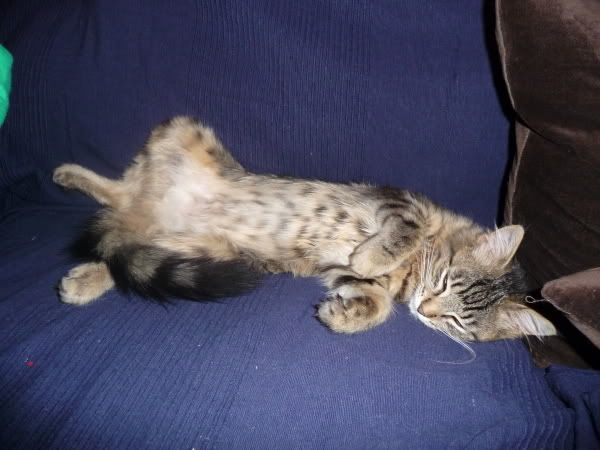 (Just try and tell me that that second picture isn't the cutest thing you've ever seen. XD Apart from your own cats, I'm sure. Second cutest, I guess I should amend that too..! :-P)