I'm engaged!
It happened last night. He had flowers delivered to my work at about 2 p.m. And it had a note that said "I want dinner out. Meet me at Olive Garden at 5 p.m." Well, that means I had to go straight from work to dinner, looking all grubby since I work in a warehouse-type building. I called him when I left work and asked him why I couldn't come home - he said it was easier to just meet at the restaurant. I asked why we were going out to dinner - he said he wanted Olive Garden. I asked why he got me flowers - he said they were pretty and he thought I'd like them. I told him to at least bring me sandals and a shirt so I could change and be a little less grubby.
So I got there, and he was already in the restaurant. I changed in his car, and went inside. We had our dinner, and then we had tiramisu for dessert. The waitress brought it over and it had a candle on it. He said that since he didn't take me out for our anniversary (was August 29th) that he wanted to make up for it. We ate the dessert, which was insanely good, then he asked if I remembered that he had a surprise for me. I said yes and he took out a large box. I opened it up and he had got me a Coach purse. I had been really wanting one for awhile, but didn't want to spend the money on it. I didn't really want him spending that much money on me for a purse, but I love it! I was looking inside it, and he asked what I was looking for. I said nothing, and he said well, keep looking. I looked in the zipper pocket and in it was my grandfather's diamond ring folded up in a piece of paper. He had put a note with it that said "use this for now, and i'll buy you one of my own later."
So we are officially engaged! We've been going out for over 4 years, and we all knew it would happen eventually, but I guess since we went to 4 weddings this year, it made him start to think. I guess he'd been planning this for awhile. We had stopped by his work, and told his friends there, and our friend said that they had been talking about it for awhile. We're going to have a long engagement though. Probably not until 2010. I would like to get a job that would be more of a career for me, and I think he probably wants to get a lot more done with school and have a better job. No rush though, since we're already living together, I'm in no rush to get married.
Pictures of my beautiful flowers. Does anybody know what those purplish flowers are. The tiny, tiny ones that are all bunched together. I love them!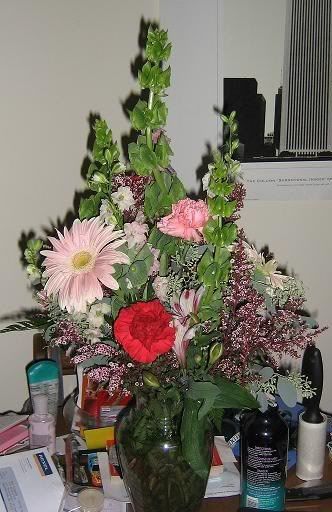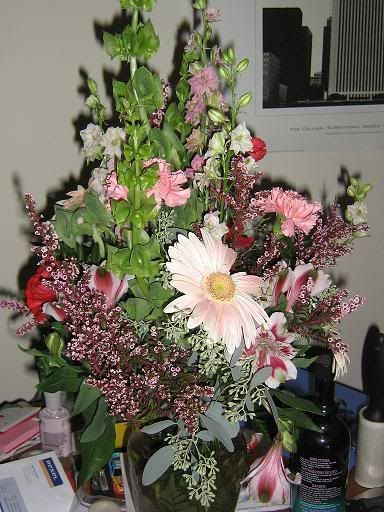 And my Coach purse that I'm in love with! He did such a good job picking this out. I didn't tell him anything.