Hello all! Apologies for not updating in a while. Things have been very busy (internet down, vacation, school starting up again) but I just wanted to say that the Irish feral kittens we took in nearly 8 months ago are doing great. They are happy, healthy and energetic little things that make us laugh every day. Both the husband and I feel so lucky to have them living here and if it weren't for this site, we probably wouldn't have had the knowledge and confidence to have kept them through the initial tough times! So big thanks.
Individual updates...
Steven is advancing. He is still not as trusting as the other two, but he is progressing through the same stages the other two went through - just at a slower pace. We are just calm with him and working on developing the trust. He is so pretty - I will post pictures sometime soon (I have quite a few, but they are still on the camera which is currently with the husband...).
Conor is a demanding little diva but we love her! She has turned into a real lap cat, which is hilarious. She is so tiny - the husband says she is just like a little puff of air - but she is definitely the dominant cat in the house - the other two love her and follow her lead. She is funny and playful but seems very serious at the same time. She demands affection - and I mean demands it! - which is really funny and I guess we probably do spoil her a bit.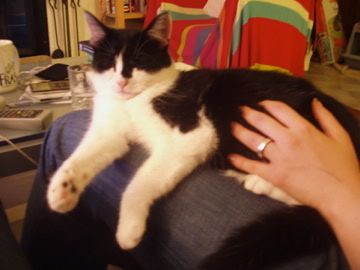 Paddington has the sweetest personality. He is so calm and laid back. Seriously, he is one happy, playful, curious, adorable, lovable and wonderful cat. For about the past month, the husband and I have been able to pick him up to about knee height, whereby we would kiss his back and put him down. Last week, I started scooping him off the counter and holding him. He loves it. I let him down gently when he starts to fidget, but he knows it is a safe place. The trust only grows....