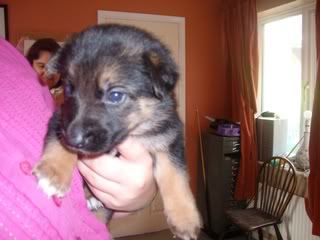 His name is Baxter and he is of the grand old age of 3 and a half WEEKS lol..
He is from a litter of 11 (one died so now litter of ten) and we visited him for the first time today and met his mum a german shepard and his dad a border collie..
Both parents are well behaved and have a GREAT teprement! The puppies are being brought up with kittens/cats/children/other dogs both bigger and smaller/a noisy enviroment..
So by the time our little baby comes home with us he will be used to cats and dogs and comings and goings
perfect pup
We are going up there again in 2 weeks with a blanket which will smell of us .. we will all take turns sitting on it , against it.. and the owners are calling him Baxter for us (the name we choose)
Jess x