I've been getting a lot of pm's lately about what I use to comb/brush my cats be it for show or just daily. So, here are the tools I use, for Short hairs first, since it's a bit easier and then long hairs:
For Shorthairs: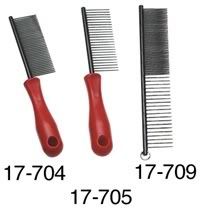 1. Item #17-704 - just to comb out dead hair

2. This is a boar bristle brush. It separates each strand of hair and brings back natural oils.
3. A goat's hair brush - specifically for shows - brings out shine!
Now Long Hairs:
1. Go back to the first picture - the combs. I use 17-709 for my longhairs. I have just ordered 17-705, since I find it's better to have them separate than in one comb
2. This is my most disliked comb - it's large and heavy but it does the job fantastic - a comb that's staggered for breaking up mats.
3. The most fantastic brush - it's a pin brush and it's great for getting rid of fly-away hairs and for fluffing up.
4. Slickers - only to be used when the cat is 90% dry and the coat needs some straightening. Also good for calming down coats!
And that's all!