And this boy is no exception! Already my "special project" has done nothing more than find a special place in my heart! But like the other 9 that still have special places, he'll go find a good home, too!
This anti-social, people aggressive, turning feral 4 1/2 month old foster boy of mine, well, isn't! Ends up he reminds me of Evie when we brought her home. We used to tease her about being "broken"- couldn't stop purring long enough to eat and couldn't stop kneading long enough to walk! That's Cronos to a tee!
Overly-lovey as he is, he is still a little boy, and is PLAYFUL!!
What's that??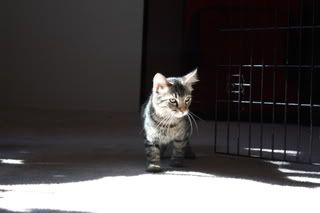 There it is again!! (I have a solar powered prism that spins rainbows and spots of light around the room. Nearly as good as a laser pointer!!)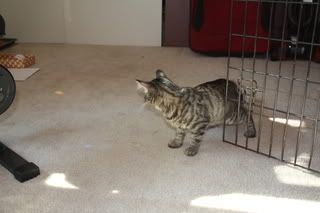 I'm gonna git it!
HEY! I swear I had my paw on that one...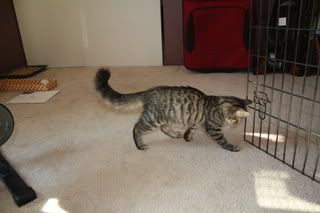 Where'd it go now?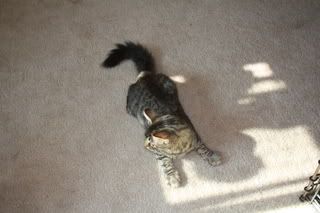 I told him he was too late for the "Helping Paw" August contest, but he still decided to lend me a helping paw by calling the foster lady and telling her to cross him off the list!
It was hard to get pics of him loving me, since I'm holding the camera! But while playing, he kept gettign distracted- had to come for some drive-by loving!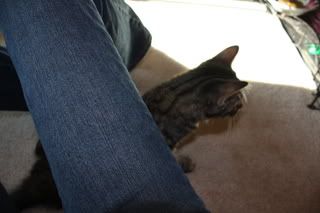 This boy has no shame, and will rub up against anything he can find! Poor desperate kitty... Hope I didn't kill him... Ha hah!
Then it was time to break out the big toys! Evie doesn't jump much, so once hubby got home, we had some fun taking these pics!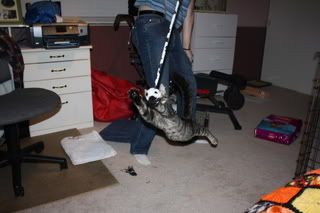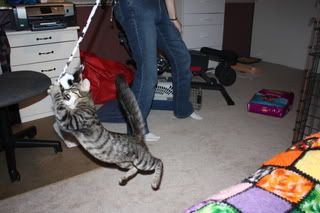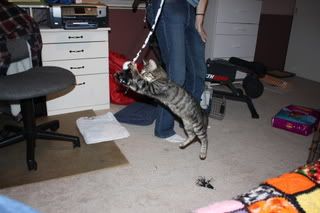 This one cracks me up!
Just for the heck of it, a close up of those vicious clawses!
Whew, playing is hard work!!
Couldn't resist those cutie toeses!!