So the pics are a little smaller than usual! We had a marvelous time on our vacation to Japan. Whether it's considered our second wedding or first anniversary or just a vacation, it was great! My dad, husband and I went back to Japan to stay a week, from 8/27 to 9/3, to stay with my host family from when I was an exchange student 9 years ago in high school. While there, they threw us a "wedding party". The wedding party was 8/31, our first anniversary was 9/2.
Since some of you requested, here are way too many pictures of our time there!
MY volcano! It was cloudy most of the time, so we didn't get many good pictures of it, but it's beautiful.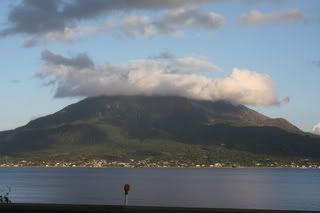 And, the City. We live about 30 mins outside of this city, in a nice little suburb.
Things change a lot every time I go back, and this time, this is my favorite change- they put grass all around the tracks! SF should do that with their cable cars!
The first day we went to my grandparents' house, which is a farm house out in the boonies. I love it! This is the kind of experience normal toursits don't get.
The 100 year old farm house.
Part of the actual farm and the newest addition- a "log house" that has a room for cooking and an outside bath.
Inside the "log house". A traditional Japanese iryori, which is how they traditionally cooked. Watch "Last Samurai" for examples. He he.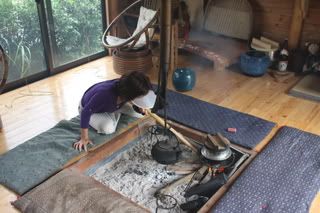 Part of their farm is unfarmed, and what grows naturally there? Bamboo! We cut one down for decorations for the wedding. Here are the men folk being manly!
They may not treat their animals well by our standards, but this is one happy farm kitty!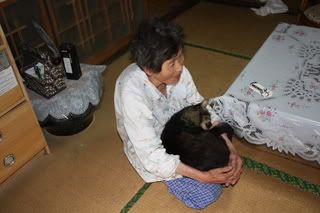 My host dad is big on "yachting". I don't do much with boats in America, so this is what I learned as a "yacht". Seems English speakers don't define it the same way! My real dad wanted to do this, so they took us out on the water! Getting ready.
One of the days we went down south, to the southern most tip of the island for a plain old relaxing day of sight seeing and being tourists.
Posing with the local landmark.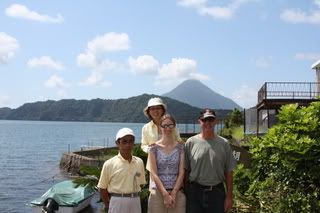 My dad and I being touristy.
A picture of the "newlyweds"! Hubby was enjoying his still sorta new toy (the camera), so he had it most of the time, so we didn't get many pictures of just us.
Soumen Nagashi- a fun way to eat lunch! Soumen noodles are put in a flowing water, and you kind of fish them out to eat. Fun and yummy!
A small little shrine. My dad got the best luck!
At the southern most tip of the island is a little stretch of rocks. To get the actual southern most tip, you have to climb over these lava rocks. My host mom was very brave crossing this little bridge!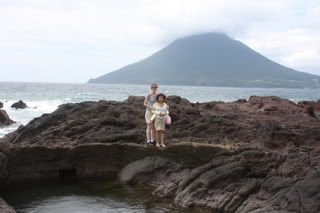 And we made it to the southern most tip!!
Hubby and I have plans to go to Hawaii next year. But why bother when there is a warm, black sand beach that's completely deserted right here in Japan?? We had more fun playing on this empty beach!!
Hit my limit! More pics on their way!