I'm having a tough time determining the coat color of one of my Van kittens. Although he was born all-black, I can confidently say he is NOT a black cat. As he has matured, I began to see ghost tabbing marking in his coat. I recently found that when I parted his coat in certain areas, he has a much lighter grayish/dirty white color at the base. This is most evident behind his ears and around his neck. In some areas, the black color extends fully to the base.
Pics are at age 3 1/2 weeks.
Lighter area behind the ears:
Lighter area on his back (notice where the black is still extending to the base)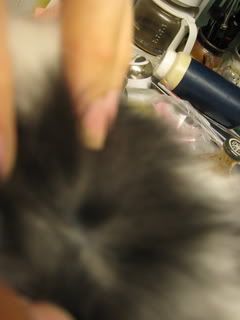 When his coat is in its normal position, he looks like a typical black and white cat (pictures forthcoming
) That is, with the exception of his eye area, where you can see ghost mascara lines.
Also, FYI, I have the father, an import. He is high-white, so there is not much base color to observe. We (myself and both a current and former BCS) first thought he was a black, then waffled between blue and brown tabby based on some lighter hairs on his tail. The black in the top part of his tail extends to the base. I couldn't tell you much about the bottom part if I wanted; he won't let me get a good look
Trust me, he won't.
I also have the mother (an import) and she is a warm brown tabby with great contrast.