My little kitten Renzo continues to worry me. He is 7 weeks and half the size of his siblings. He only has 4 teeth beginning to come in. He still has a flatter face and little ears. I have watched him eat and often feed him extra. I tuck him in my double tank tops to carry him around with me so that I can give him extra milk,food and he is very attached to me. He waits by the door to come out with me and loves to sleep with me. He is the cutest little guy.
He uses the litterbox fine. The others groom him but are sweet to him too. They generally don't wrestle with him. Lucia nurses him still and mothers him. But he is teeny tiny still. He still has the roundness of a kitten half his age. He doesn't walk like the others he kind of does this hunched crawl walk.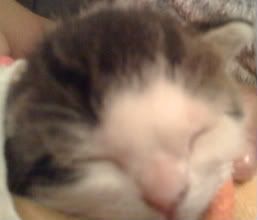 Not the best photo but this was taken last week.
Has anyone had this experience? Should I be concerned?