I could scream!!!! We've been looking at houses for the last year waiting for the right house to come up. We can't afford much, but a small starter home was something we could do!
We wanted a 1 story house, finished basement, 2 bathrooms, and a backyard for Thor. I'm still in school and we have been renting for 3 years. We've spent $15,500 renting in three years!!!! YIKES!
We looked at a couple starter homes, but they needed A LOT more work than we could do ourselves. Then this little ranch house came on the market and we went to see it the 3rd day it was on the market!!!! It's such a cute little house! The owners want to sell it quick because they are retired and don't want to deal with a rental house anymore. They priced it $15,000 UNDER what it's worth. We put in an offer for $5,000 less than what they were asking for and they are going to counter offer for $3,000 more, but they will pay for clossing costs, which will be $2,000
OMG I can't believe this is happening!!!!
864 square feet, 3 bedrooms, 1 bath, and a semi finished basement!
I know it's not the prettiest, but it just needs some new paint! (we're thinking dark grey with black trim)
Back of the house
Back yard
The living room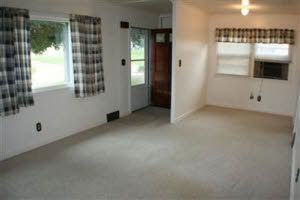 The living room, I LOVE the big window!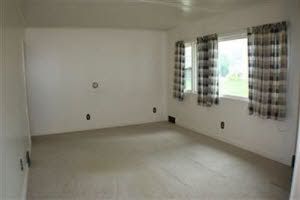 Kitchen, desperately needs updated
Master bedroom 12ft of closet!
The second bedroom