Smudge's babies on Sunday, which was their 5 week birthday. She was nursing them rather randomly in the middle of the floor and this is their post-nursing heap. Awwww.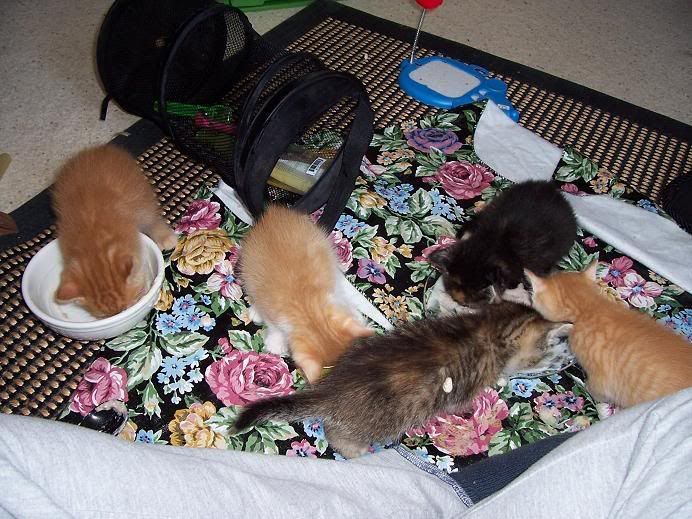 This is actually them at 4 weeks and 6 days, on Saturday. I just had to grab a shot since this was the first time I had a lot of kittens chowing down and Edmund in the mixing bowl and unnamed orange creamsicle in the can of max cat kitten (which had a dollop of KMR mix from the spoon I used to transfer half the can to their KMR).
Yeah... and someone was rolling around in my shower tote which is why it is in this pic. whoops. (and no blade on that razor)
The sixth kitten is the other creamsicle kitty and as both of those are the smallest kitties it was nice she was getting some quality nursing time with mom while everyone else ate their big kid food.
I have three named kittens and three unnamed.
They got semi-sexed by the vet and vet techs and me on their first day of living (no emergency, basically at the vet for no reason because vet wants a kitten after his twenty year old feline friend passed just before I got Smudge and he used a flimsy excuse to see them, I think but I do not look potential two-fer adoption in the mouth!)
And all the red tabbies were thought to be boys but now I think only classic dark red tabby is a boy and the creamsicles and medium red tabby are girls like brown tabby (Junie) and barley there tortie (Fiona).
Oh well, their families will more than likely rename in any case but I feel like I should call them something in the meantime! (And no one renamed any of our kittens from our last litter from pregnant semi-feral!)