We're all starting to feel better! Lovelock and Reno never had much improving to do, but Sparks is certainly begining to settle in- not nearly as much hissing, and he's often out of hiding to play, and he's even braved a sniff of my leg when he thought I wouldn't notice!
Best news of all, to me, anyway, is even little Vegas is starting to feel better. He's not doing well yet, but whereas before he slept 100% of the time, except to eat and potty, now he's down to sleeping about 50%! Of course, of the 50% he's not sleeping, he's still just laying around for 25% of it. But that means he's up and about for 25% of the time!
So I don't get my perma-kitty cuddles from him, but that's worth it to me. I even got a purr out of him!!
Oh, call the SPCA, they mistreat kitties here!
(Lovelock, Vegas, Sparks)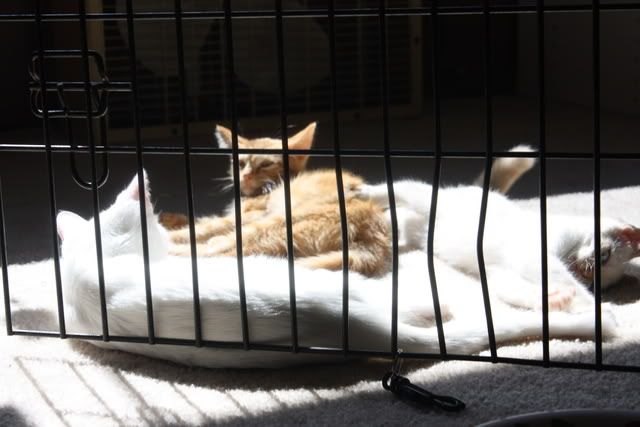 Sparks even dares to look at me now! Maybe he doesn't think I can see him through the camera.
Relaxing never lasts long with the active kitties Reno and Sparks. They are quickly becoming best play mates!
Sparks says "I'm gonna git ya Reno!!!"
"Got ya!!"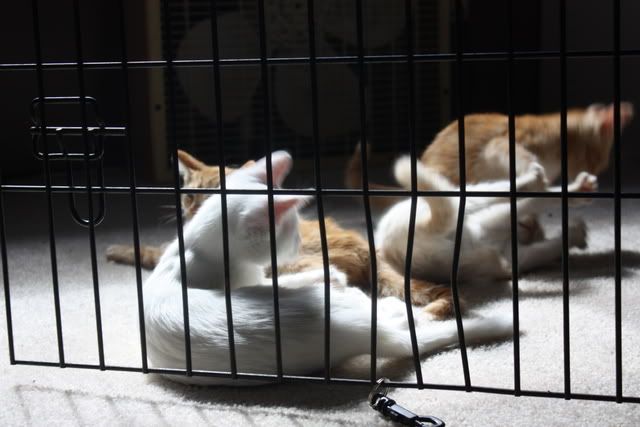 While the crazy boys play, Vegas and Lovelock bond in the sun.
Now this is what we call "sun bathing!!"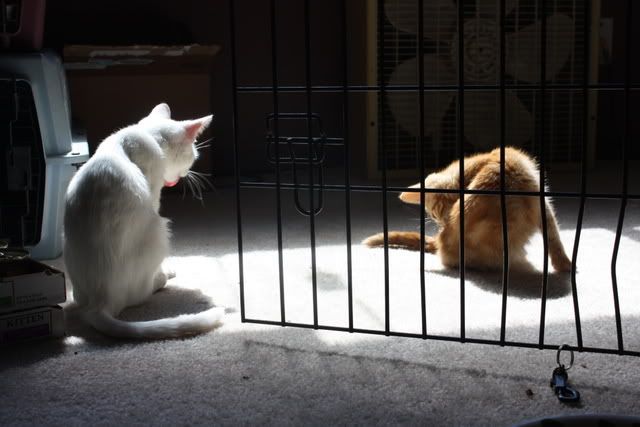 Lovelock is such a handsome man, and he knows it!
SEE!! Told you Vegas was feeling better. He just randomly decided to climb on top of the cage. "I'm the king of the world!"
He has this funny little "Nar" instead of meow. He sounds like a little lion roar! Maybe it's because he's stuffy and that's how a nasaly kitten meow sounds. But for now, he's my little lion.
"RAWR!"
Even Sparks' eye is begining to clear up! Excuse his funny face, I interrupted him eating...