I know, really hokey name...
Y'all have to help me think of something better to call my NEW FOSTERS!!!
Infinite thanks to mews2much for transporting them an hour to me!
They just got here today. I have them set up in a huge dog cage, but when I'm here supervising them, they get free run of the room! They've been hanging out with me now for about an hour, and they sure seem to be loving it!
As far as I know, none have names. I called the lady they were with before to ask if they do, but she didn't answer and hasn't called back yet... There are four, supposedly all boys. Two oranges, who are nearly identical, I'm calling them the twins, an all white, and a flame point siamese.
For now, thanks to mews2much's husband, I think I shall refer to them as Eeny, Meeny, Miney, and Mo!
Let me introduce you!
Eeny, the siamese! He is the only non-sibling in the group- the other three are related. He is the smallest, really timid right now, and has a weepy eye. He is mostly hiding during our play session, but pops out now and again, so I have high hopes for him!
Eeny's mucky eye and gorgeous face.
Meeny, the white boy. I dubbed him "Meeny" of the four options because though he is the loviest, sweetest of them all, he is food aggressive with the other kits! But, he sure is a love with us! Got him out of the transport cage and after sniffing a bit, he flopped across my husband's lap and PURRED!!
Meeny's tail is about as long as his body!!
Miney, the smaller of the twins. Next to Meeny, he is the second sweetest. I can barely tell Miney and Mo apart. Miney has a much lighter tabby "M" on his forehead, and his are nearly straight.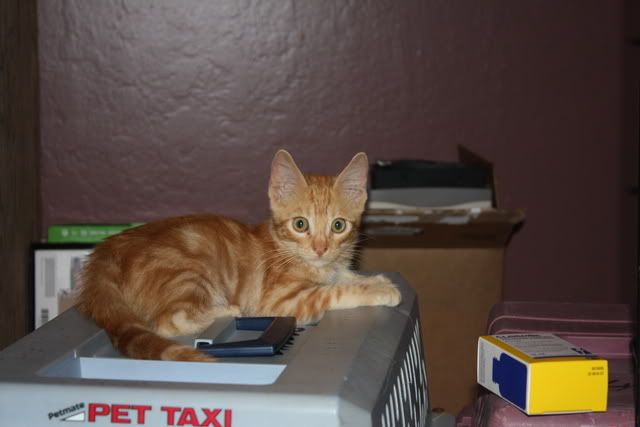 Mo, the larger of the twins. Next to Meeny, he is the second most playful. He is a feisty boy!! Mo can be distinguished from Miney because his tabby "M" is much darker (though with this camera, Miney's shows up really well and it's hard to tell which is "light" and which is "dark"!) and is, how shall I describe it? More crooked?
These guys are about two weeks older, but twice as big as the X-Pack when I gave them up! Wow. But, they are skin and bones! I think they are skinnier than the X-Pack, and that's saying a lot! Not sure how long I'll have these guys, but I intend to enjoy every minute I do have them!