My cooking fest is complete! Because everyone is so wonderful at making me feel important, I am baking a few loaves of bread to bring to the bay area get together tomorrow. Oops, I mean later today, since it's now 2 AM!
So from the time I got home at 6 today until now, 2 AM, I've been baking! Of course, that includes shopping time and other distractions, but still...
We're ready to start! Notice Evie is there as the Master Taste Tester. She made sure I did everything to her strict approval! (No, she didn't really get to taste anything, she's not even allowed on the table, don't worry!) That clear plastic bowl is full of just the starter I used- that's how much started I had!
Mixing! The yellow bowl my husband is mixing is the actual amount of dough we had. Notice Evie is taking her job very seriously!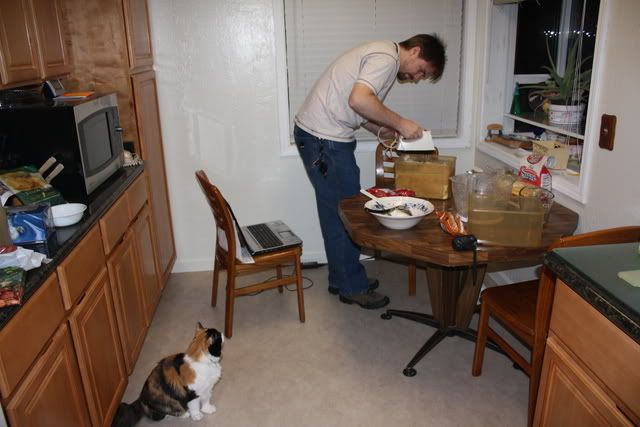 A few loaves about to be baked!
And the final product! Hubby and I kept the "reject loaf"- it literally had half the dough of the others, but still ended up nearly as big, go figure- in the back center, so of course as apprentice taste tester my master Evie allowed me to taste that loaf. Yummy, if I do say so myself!!
I hope everyone likes them tomorrow!