Today (August 15) is the day we celebrated Chloe's 1st birthday! We don't know her exact birthday but we can't be more than a week off
She was found as a stray kitten with a litter mate on a busy road during a rain storm. A rescue group took them in and their vet thought that she was 4 weeks old when they found her. They fostered her until she was approximately 12 weeks old, when I brought her home.
I found her while looking on Petfinder. This forum is partly to blame for my bringing her home. (I had found TCS when I adopted my first cat only a month before Chloe. This website is what convinced me that two cats are better than one and so I began looking for a second pretty quickly.)
She is such a joy and constantly entertains us with her antics.
Chloe enjoyed tuna for her birthday dinner. (We took it out of the can for her after taking the pic).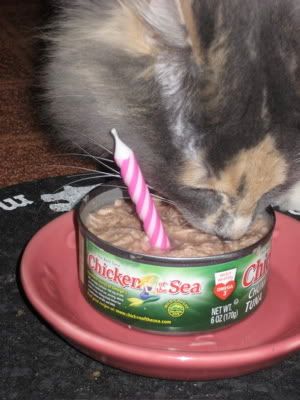 She spent a good chunk of her birthday playing with string. This piece of string (an old shoelace) has been one of her favorite toys since we brought her home.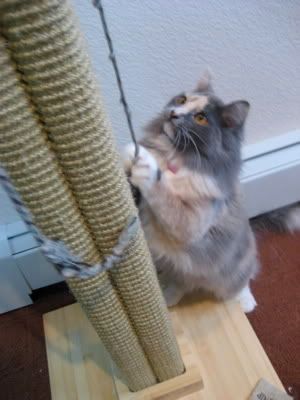 She's not very big for a 1-year-old cat. She probably weighs 7 lbs. at the most (I haven't weighed her in a while). This picture was taken today too.
This was one of her Petfinder pictures, which was taken when she was 6 weeks old. Her litter mate was really sick and her foster mom didn't want to put her up for adoption. I'm still not sure what happened to her.
This was taken on Chloe's first day home (November 10, 2007).