We brought the horses out to the fair grounds so we could practice barrel racing and other show stuff for the horse show tomorrow night. We were playing around for mom, who was video taping. She LOVES that digital cameras record videos!
AT THE GATE:
Bonnet........21-year-old paint mare
Princess.......9-year-old quarter horse mare
Tora............3-month-old quarter horse filly
Guess who wins..........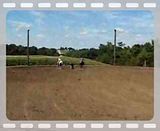 We both scream at the end because we thought we were going to run into the fence!
(I would have more videos of me barrel racing and stuff but my internet is really slow and some of the videos are too big for photobucket. I'll get the videos up sometime!)