Well, we've had some changes with Kasper's Cats! As some of you may have read, we had a tragedy:
http://www.thecatsite.com/forums/sho...d.php?t=173508
A little grey kitty that at first I wasn't sure was ours, but after seeing him in the day light, yes, he is ours. A little grey guy with white socks / boots that used to sleep on my car. I called him Buttons, he was also called Boots. I miss him already! : (
In other news, a tiny grey and white tabby kitten hasn't been around for over a week, so we're worried about him. Hoping he got trapped by someone else... But our kitty-count has not gone down! In somewhat good and somewhat bad news, we have grown by FOUR kittens!
To explain a little history, I've been working with a lady I will call D. She is with an actual feral rescue group, and my mentor, so to speak. However, before D came around, C was there feeding. She was not with a group. I finally met her tonight! She told me a bit of their history and the names she gave them years ago.
On to the piccies!!
A good group photo! In the foreground is the alpha male I had started thinking of as "Allan" (alpha, Allan, I'm not too creative!), but is actually named Rocky. In the back, you can see some of the new kittens, including the original camera shy siamese!
Rocky again and his gang! You can just see "Benny"'s body, he's the bengal looking boy. Yeah, again, Benny, Bengal, I'm creative.
Three of the four new kittens, and Grey Guy. He is nearly as dominant as Rocky!
Grey Guy's profile.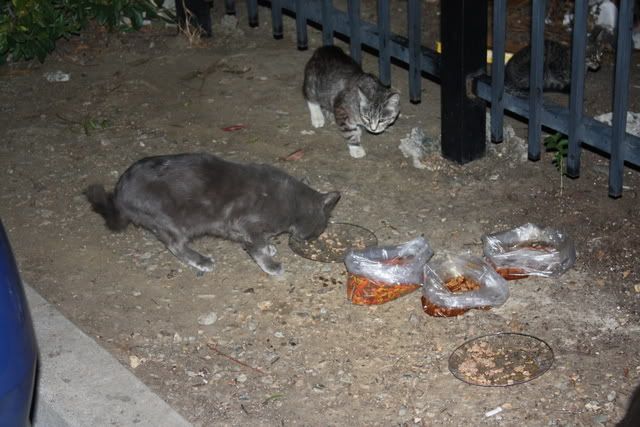 Another of C's original cats, named Bay. She's brave, but moody and rather anti social with kitties and humans alike!
Finally got a picture of the siamese girl! She is the only one of the original four kittens. Two were trapped and getting ready to go to a home! The other has gone missing.
Three of the four new kittens, and the little siamese!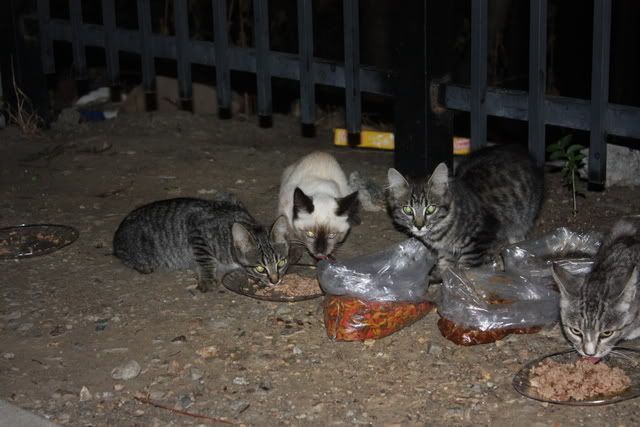 One of the new kitties. I love her poufy cheeks!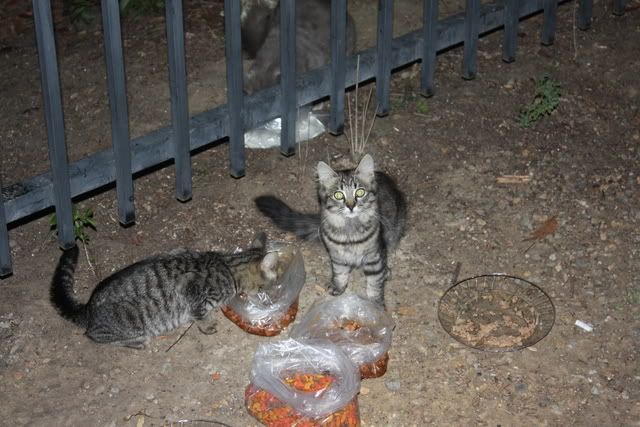 Does this scream "I'm a skittish feral kitten!" or what??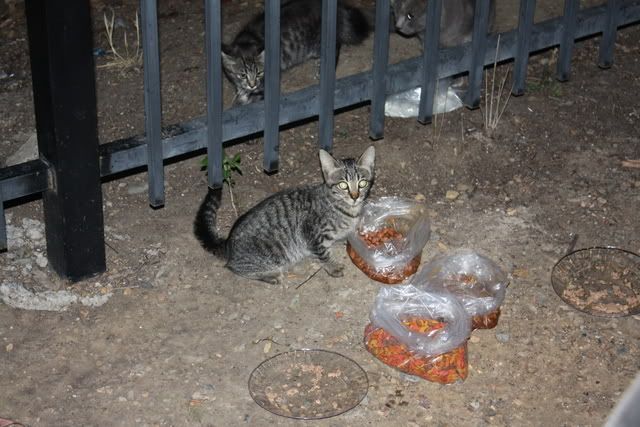 The beautiful green eyed girl, she is very shy, and has her own bowl of food off in this corner.
Bay playing hard to get.
Posing pretty on the safe side!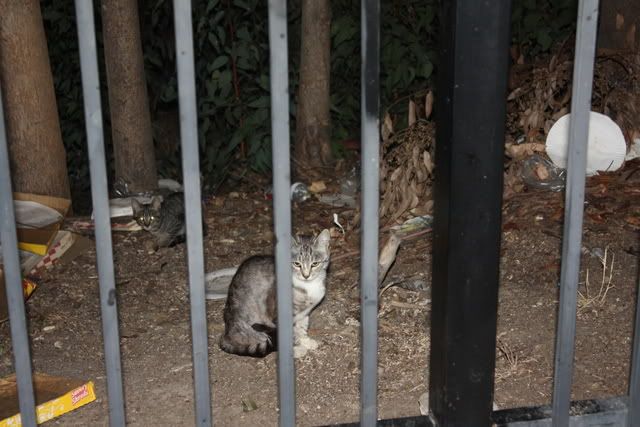 Benny up high, where he likes it!
The fourth very skittish little kitten getting brave and sneaking out from behind the bars!