I'm still pretty new here and haven't posted in a while but I owe it to my Princess to post about her crosssing. I've visited the site several times over the past few weeks thinking I was ready to write about her but couldn't bring myself to do it. Everything I've tried to write has fallen short of her beauty, so instead I've made a little picture video of what few pictures I still have of her. The hard drive I kept most of my personal pictures on was fried and dumb me had no back ups.
On the night of June 30, 2008 I had fallen asleep on the couch and at 3:30am I was awoken to the horrible cries of a cat. My dog and I jumped up and flung the door open and to my utter heart break I see my beautiful little girl Mi-Mi being attacked by two large boxer/pit dogs. I screamed for my SO. In my panic I picked up the first thing I saw that might act as a weapon and my dog and I charged, screaming to the top of my lungs at the dogs. By this point my SO was on our heals and the dogs had retreated followed by my dog who quickly returned to the scene after the danger had fled. I'm afraid it was to late. As soon as they let my little girl go she ran down into the storm drain where she collapsed just out of my reach. I cried and plead for her to come to me but she didn't have the strength and shortly crossed the bridge. A piece of me died that night.
I feel I had a premonition about her death just weeks prior. I had a strong feeling one night I should make my kitties an outdoor enclosure and make them stay inside due to the increased number of dogs in our neighborhood. Being we don't own our house and my babies have always been free range I put it off. Shame on me, I took her for granted. Now I can live the rest of my life knowing I could have prevented her death.
I will NEVER make this mistake again and my beliefs about cats being allowed to go outside has flipped-flopped. My SO and I immediately set forth with constructing a modest enclosure for the two boys. I didn't even ask my landlord. I wasn't taking any chances of being told no. After 4 very stressful days it was sound enough to house the boys and I could collapse in my sorrow. It's been a tough transistion for the whole family but a necessary one.
We're coping with her passing one day at a time. I want so bad to just remeber how beautiful she was and not that tragic night she fought for her life and lost. I pray that will come in time. It dosen't help that the a**hole that owns the dogs has been anything but sensitive or compassionate and refuses to fix the breech in his fence. I'm on it though. I am sleeping with one eye open in my efforts to inform animal control of when they're out. They have to be stopped. My poor baby was one of five (that I personally know of) who lost their lives that night.
Please take a minute to view my little video remembering my baby girl.
http://www.youtube.com/watch?v=I_GPQqJxJBY
Rest in Peace Baby Girl. Please forgive me for my negligence.
This is the Mi-morial.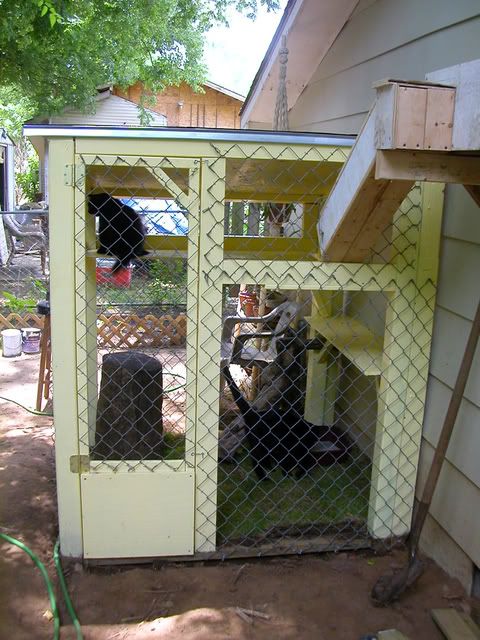 It was not very well received by the boys but they're slowly coming around. I've added alot of cat friendly grasses, plants and bird feeders around the yard in hopes of some enrichment. Cost was aprox. $100.
A big thanks to all my friends that pitched in on materials and a super big thanks to my SO for constructing the most wonderful gift I've ever been given. Peace of mind knowing my other two babies are safe.