I stopped at a PetsMart near my condo - not the one where our rescue has cats - to buy some wet food for MY rescue charges. We (BF and I) stopped in to see the rescue kitties from another group and this lovely fellow caught my eye. He is a light flame point Persian. His cage card said he was found wandering the streets of Detroit, severely matted and starving.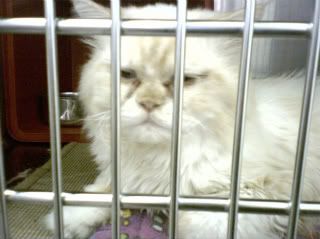 (((sorry for the lousy pic/image. Camera phone.)
He is sooooooooo sweet. As soon as I started talking to him, he began this low, rumbly but loud purr. His eyes don't look good. Anyone familiar with Pers can tell me if this is a condition of the breed? They are blue, BTW.
Sooo sad. Such a sad face. One of the workers there said when she cleans the cat area, he follows her around like a puppy.
Sigh... at least he's better off than trying to fend for himself as a stray.
There were lots of others, of course.... but since he's a PB cat, I was surprised to see him there.
*****MODS ***** SORRY THIS IMAGE CAME OUT SO LARGE. IT IS SMALL ON PHOTOBUCKET, SO I DON'T KNOW WHY IT'S SO BIG HERE. -AB