As a hobby, I make beadwoven jewelry, mostly with teeny-tiny seed beads... and good quality seed beads are
so
hard to find! We've never had a really good selection any closer than 40 miles from where I live. But tomorrow is the grand opening of a brand-new bead store that's only 20 minutes away from me, and they've got
1200
different kinds and colors of seed beads!
A few weeks ago, the owners of the new store put out a call to local beaders, asking for help in packaging all those
millions and millions
of seed beads into
thousands and thousands
of little tubes as start-up inventory for their store. It took four days, and to "pay" for our help, the owners let us keep any leftover beads that didn't make whole tubes -- so we all ended up with lots of interesting shapes and colors to take home!
As we were working one day last week, the owners got their cash register running and told us we could have 20% off anything we wanted to buy. So I bought a few small things, Val rang me up... and I was their very first customer!
Well, that gave me an idea. I decorated a frame with beads, doing the name of the store in little alphabet beads at the top, and I framed that first receipt for them to hang on their wall: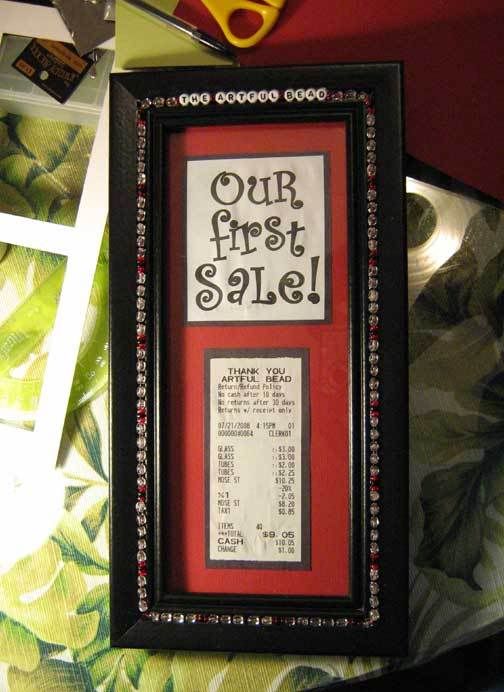 I'm taking it over there tomorrow morning for their opening day. I know it's silly, but... I'm so excited!