My Dh does not like cats, has never liked cats. He says it's because of the shedding, and has said for years that if he has to have cats in the house that he wants them to be Sphynx.
When he finally relented the other day and said I could keep Adam, he said, "But only if I can get a Sphynx." I didn't think he was serious, since we can't afford to purchase a Sphynx kitten right now, and it's not like people are giving them away on every corner. But apparently, I was wrong!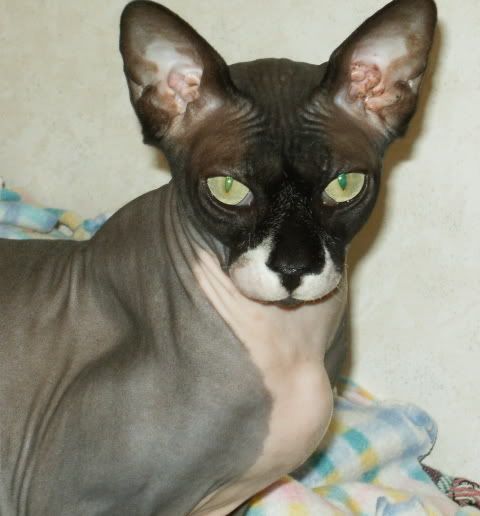 Introducing Sprout!
Dh found an ad for a Sphynx that someone wanted to rehome, and weren't trying to make $ off him as long as he got a home who would take good care of him. I think he must have had this in mind even before he agreed about Adam, but didn't want to bring it up considering he was telling me I couldn't keep Adam because we had too many cats!
I'm not quite sure what to think - I cannot believe we now own SEVEN cats. It is pretty adorable watching DH with him though. He is fawning over him more than he did our children when they were born!
And now I can make him help me with litter box scooping, I suppose.