Meet some of my new ferals! Ok, they're not mine, another lady with a feral rescue group is feeding them, so they are her colony. But, she was so thrilled when I met her there and put me to work already!
Last night, we took our first turn feeding these guys without her, and we managed to trap a kitty already! Of course, we want to trap them all and either get them doctored up and released, or, if possible, find them a good home!
Since we feed them between an empty lot and the parking lot of a little shopping area with a Kasper's Hot Dog, we have unofficially dubbed them "Kasper's Cats".
Feeding Time!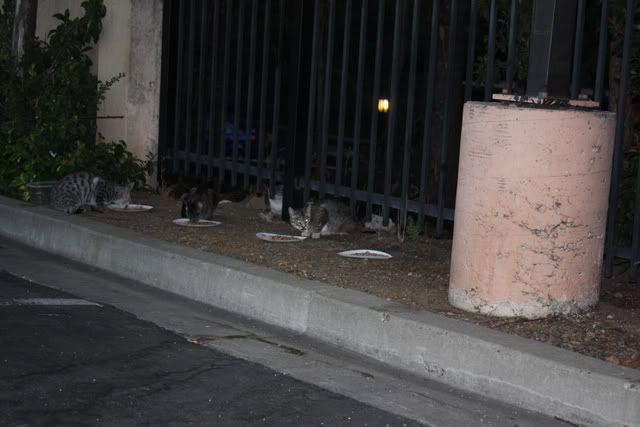 Though they're all mutts, this one looks almost like a bengal. We also have a tiny kitten (who was playing camera shy) that looks very much like a siamese.
This is the big alpha male. He's actually really sweet with the normal lady who feeds them, so we have hopes we can get him a home! He is one of the three we specifically want to trap (the other two being young kittens), if not to rehome him, then just to get him fixed!
And another group shot of the nummies: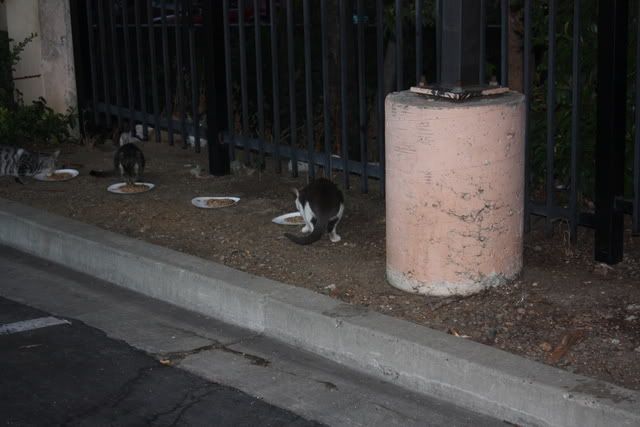 Wish us luck taking care of these guys! The pictues don't do them justice, they're all gorgeous.