Okay, so I love the theme of the make-up contest for Feb. Only problem is that I have too many cute pics of the babies snuggling together! Will you please help me choose? Thanks a bunch!
Oh, these are just clickable thumbnails...I'll post larger ones for the contest!
1. This is one of my favorites! They are way too big to all fit in my lap like that now!
2. I love this one...more lap lovin'!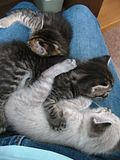 3. And this one is another favorite...I just love how they fell asleep like that, without any human interference!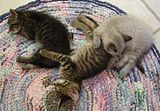 So, what do you think?