Here are some photos of the cat I posted about in the SOS forum. He is just as sweet as can be, but soooo skinny. He is eating like a champ, though, so I hope he will put on weight quickly. I am hoping to get him groomed tonight; I started by trimming his claws, and now he's hiding under the bed.
I will start again after giving him a break!
Here he is: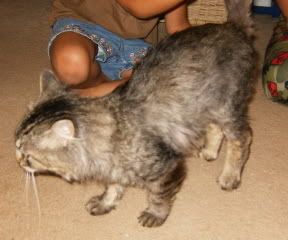 Eating like a hoover:
The only decent shot I could get of his sweet face:
DH says I absolutely cannot keep him, so I am hoping to get him hooked up with a rescue soon.
Name suggestions are welcome!