As promised, here are a few of the horses at the stables where I ride and help out at. Obviously, I'll save the best horsey till last!
Lady Jane

is around 6 years old and is 12.3hh. She is really cheeky and loves going fast!


Peach

is 4/5 years old and is around 15hh. She too is really cheeky and can be proper marish. She is probably one of the most stubborn horses I have ever rode, but apart from that and the fact she loves to bite your toes, she's a lovely little girl
Thor

is 6 years old and is mainly used as a trekking pony as he acts like a nutcase in the school. He's around 14.2hh and has a silly expression on his face all of the time!


Ted

is a 16 year old 16.2hh horse who enjoys going at a pretty steady pace. Unfortunately he is being sold soon, due to the fact he is lame
Sid

is also 16 years old, and he is one of the grumpiest horses at the stables. He tries to bite you when you tack him up, but as long as he has some food he is perfectly fine. My mom loves to ride him as he is the safest pony in the school who will do everything you ask of him.
Paddy

is 17hh and is a TB. He is the bounciest horse there, and is probably the second grumpiest. He will try and bite you if you walk past his stable without reason, and loves to toss his head about, trying to knock you over. Other than that though, he is a lovely little chap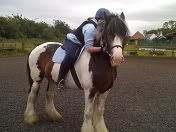 Patch

is 16.2hh and is around 8 or 9 years old. He is one of the comfiest horses at the stables, and he is also one of the safest.

BTW EnzoLeya I asked about his breed for you and like I said they don't know what he is.
Margo

is the newest horse at the stables. She is 16.3hh, really gentle and sweet but I haven't got a clue what she's like to ride, but I'll soon let you know cuz I'm riding her on Saturday


More coming!.....