The little theives stole my heart and now they're gone!
We got a phone call yesterday from the rescue group saying that despite the appointment they had made for us this coming Saturday, the 26th, they made a different appointment for during the week for them to get fixed, so they needed us to bring them all back TODAY.
Of course, I had plans for today (am not even home now!), so my husband is packing them up and when I get home they will be GONE!
Good news is, at least I got to say good bye last night and this morning. And, as per another thread I made, we got a camera just in time to get some good pics of them!
And my, what an experience this has been. I am so glad I took them in!
From the time they came home (
http://www.thecatsite.com/forums/sho...d.php?t=168436
) they've been a great addition to our lives. There have been some rough times, but they've been worth every minute. Because of the "incident" we had (
http://www.thecatsite.com/forums/sho...d.php?t=169635
), I doubt we will ever hear from the rescue again, so I don't think I will ever know how they end up. Which is truly heart breaking, but I have confidence that they are healthy, happy, well adjusted babies and will find great homes.
I will miss my little darlings dearly! So, I am actually rather glad this was so abrubt. Had we waited until next week, we probably would have kept some!
Can I get some of those marvelous TCS vibes that each and every one of the X-Pack gets the most wonderful, happiest home and family and life possible?
In alphabetical order from left to right: Calypso, Davy Jones, Jack, Sao, Tortuga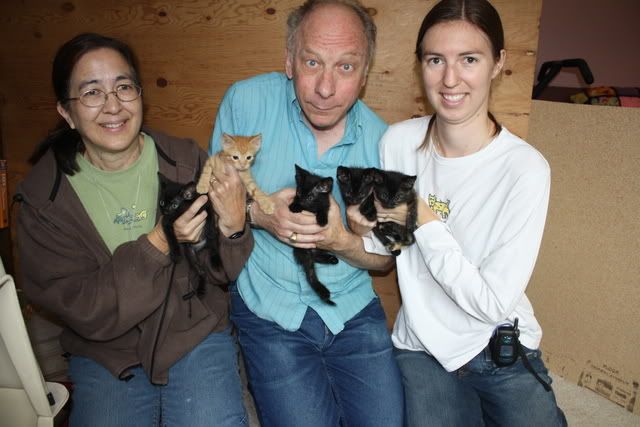 Best of luck to happy beginings, babies!