(I opted to put this in What's New, as neither cat is in any of the shots... but it's ABOUT something for them)
So, I've been stashing junk under the bed since I moved in two years ago... but due to my on-off obsession with Feng Shui (pronounced fung schway, for those who don't know), and the experts stating that you never store things under the bed... creates stagnation.
Well, JoJo and Jack are constantly under the bed (what cat isn't?). I had the spark of an idea in Target last week... so this week, I went back got the items I needed from there and also hit IKEA (as my bed is from there). So here's what I did today:
I picked up my mattress and set it off to the side. I removed the 'box spring' and dismantled it (I have a sleep number bed, due to a bad back). I vacuumed under the bed, then lifted the bed with those risers (from Target). I had to get two sets, since I have the center support posts:
I then set everything out: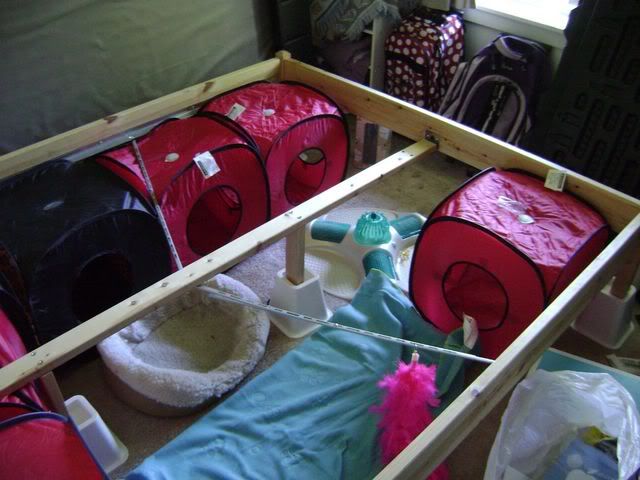 Put the slats down (from IKEA). I laid down the top of the 'box spring' on the slats, to life the mattress a little more... mostly for ease of changing the sheets... then set the mattress down... made the bed:
And now the cozy little Kitty City under my bed: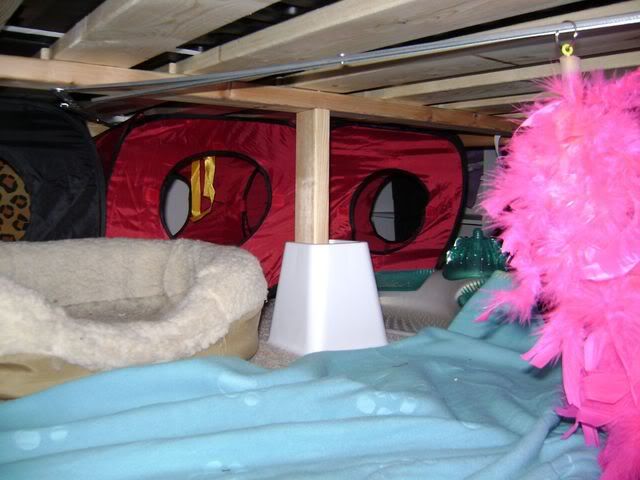 I also went back, before making the bed, and screwed down the slats... as the springy cubes were a little too tall If the risers were an inch bigger, it would've been perfect... so the cubes are a little scrunched... but still good for the cats.
Right now both cats are sitting in my IKEA chairs... we'll see tonight how they take to the 'City'
So, what do you all think?
Amanda