Hello everyone...the babies turned a week old yesterday. Their weights from yesterday to today all of them have only gained 0.2 ounces. They have gained so I know that is good, but they have been gaining about 0.4 per day. Right now their weights are one at 7.2 two at 7.0 one at 6.8 and one at 6.6.
Two of them are starting to open their eyes. One with one eye full open and the other eye open a little. The other one just has one eye open a little.
One is trying to walk, she is the big one of the group she keeps standing up on all four and wobbling everywhere and falls over it is so cute.
I also know where the term cat fight comes from now when girls fight by batting their hands at one another. The kittens would do that fighting for Momma's nipples...so cute seeing little kitten paws batting at each other.
Okay well please let me know if any of you think I should supple, or once they get to this point they don't gain weight as much as the first week? I am just worried since Mia is so small and yesterday when I went back it just seememd like they were always feeding on her...but they were all content not scuring around looking or anything.
Okay now for some photos from the week. All we have names is Momma so far, Mia. Have a list of names for the kittens. We may keep two and adopt out all the others...but that could change. LOL! So any idea on names would be great. There are two that look like twins. Very hard to tell them apart, except one still has the umbilicord attached it is all dried up but I am not going to pull it off. I know it will fall off when ready. So for the twins I was thinking Mocha and Cocoa. For the orange one we were thinking Simba. Disney names is a theme with our animals. We just lost our cat Nemo so that is out.
Okay as always everyones help is most apperciated!!!
Photos!!!!!!!
1 day old, the two twins are on the right, both girls, then orangie in the middle, boy and then two on left, girl is on the bottom and boy is on the top. Her markings run horizontal on her back, quite interesting and longer hair. I am pretty sure I got all the sexes right.
1 day old, I love the one that looks like they are holding on for dear life...or like splat against the wall with her arms streched out. LOL
1 day, here you can see the markings on the female...almost like a skunk back. I have fallen for her and most likely will keep her with the orange one.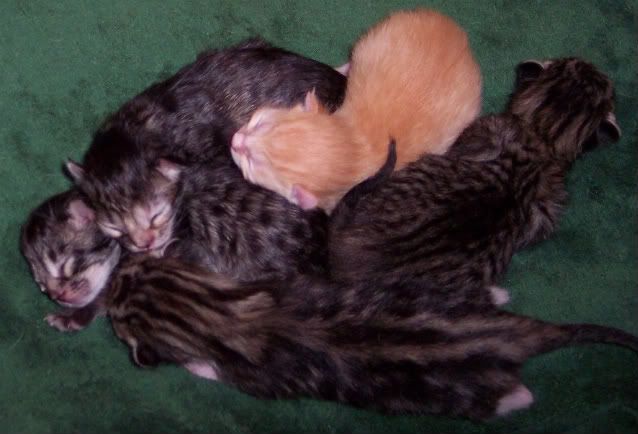 2 days old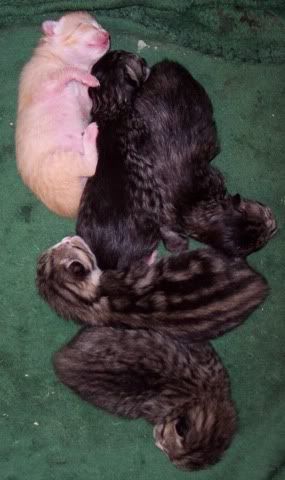 3 days old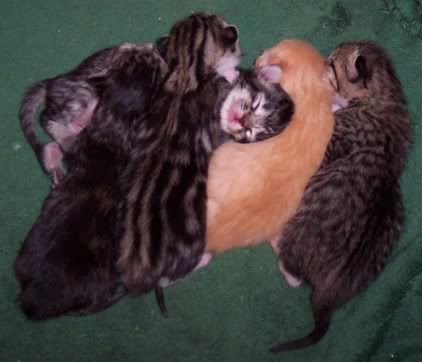 3 days...your turn to be the covers...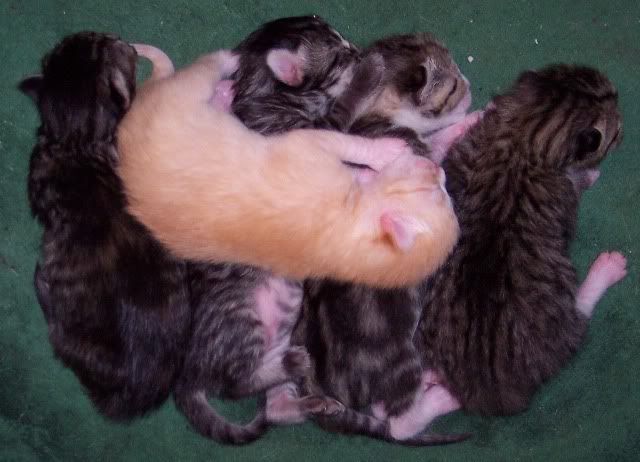 4 days old
5 days old, with Mia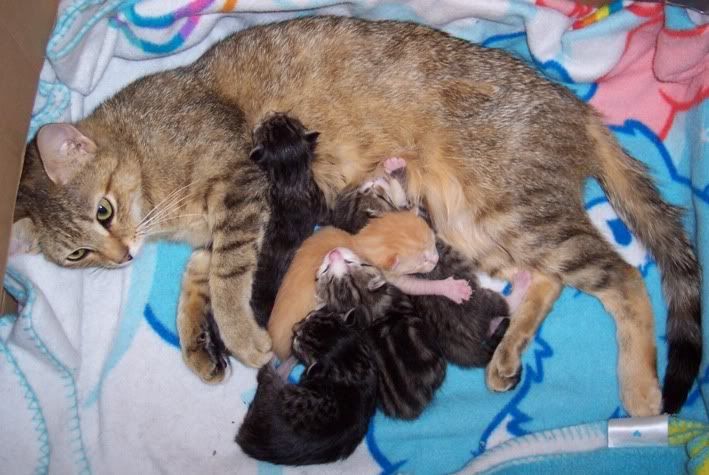 6 days old... love the little faces.
6 days old
6 days old and feeding time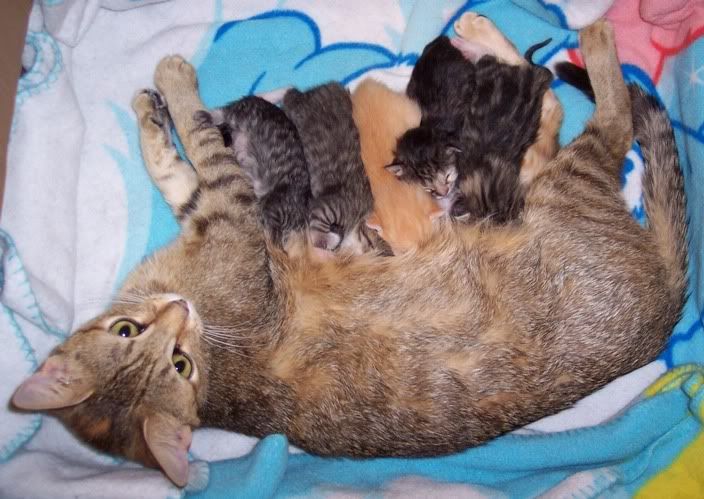 Hope you all enjoyed the photos!
I am enjoying watching them grow up!!!