My name is Cyn, and here is the story! I have always had dogs, and because of being around my friends cats, I really didn't care for them. I had just never had a good experience with them. =o\\ I also loveeee rabbits! So my daughter had "her own" rabbit... and after a few years, he passed on. She was heartbroken and I talked with my mom about it. She decided that my daughter needed a kitten. So, I went with her to the pet shelter and there she was. Mea. She was a Maine Coon, or so they said.... and she was approx. 5 weeks old. She had been abused by some kids.... ugh... and she was now my pride and joy. She stayed with us for almost a year, and then she learned to open the door. She loved us, but she ALWAYS wanted out. She finally got out and ran away... she was fixed thank God, but it really tore my heart out that she ran away. I held hope that she would come back, but its now been over a year and she did not. =o( Before she left, I adopted a Black and White Tux, named Martin. He's a doll. I then adopted Murphy... a silver and white Tux. And finished the family off with a Siamese cat that my mom purchased for us. I was happy with my 3 boys... and then Murphy did something I didn't expect. She went into heat...... Much to my suprise, he was a SHE! I didn't ever think twice to question what I was told.
Murphy always kept distance, I rarely knew I had her, and she liked it that way. I fed her, and changed her box, and other than that, we really had no interaction with her. Well, she went into heat and Max, the Siamese was ready and willing.... *shakes head* I caught them in the act.. and I separated them. Well, now 61 days later, here I am anxiously awaiting kittens. She is huge, and getting bigger by the day. The boys are staying away from her, and they have appts to be neutered, and she will be spayed when she's ready. She is super affectionate since she became pregnant, and she really is my little buddy now. I just adore her. Here are some pics of my kiddies....
Martin:
Martin and Max (daddy)
Max (daddy)
Murphy (mommy)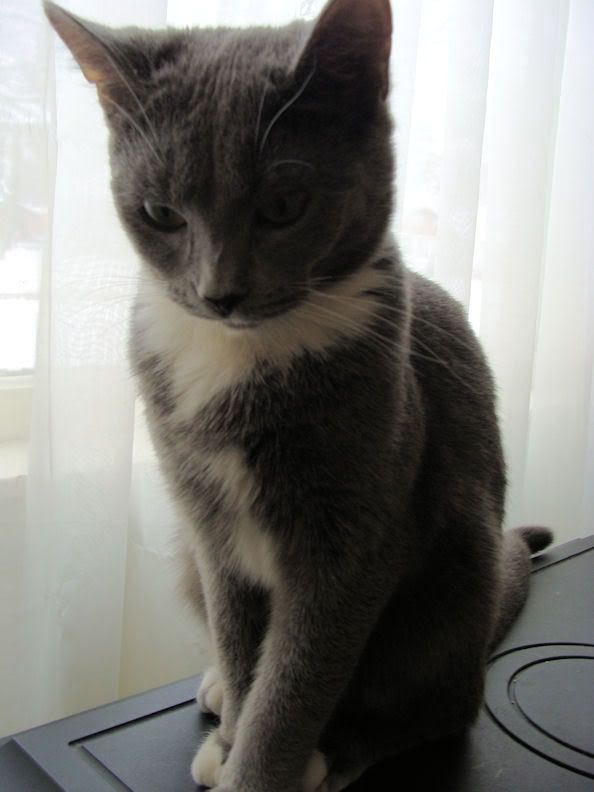 And Murphy today... day 61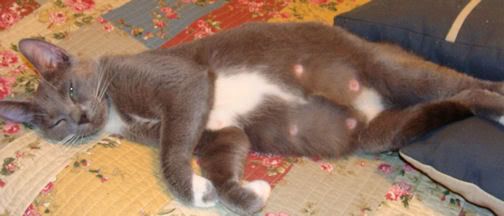 She is sleeping alot lately, and she is struggling to get up from laying like that! Poor little girl. Watching her babies move around and her try to sleep reminds me alot of when I was pregnant! =o)
Thanks for listening, and I hope this finds everyone and their little ones well.