Some of you may have read my "NYers I need help" thread in the SOS section. If you havent, I am taking care of two kittens we rescued with mom who was TNRed. The kittens were supposed to be released but we didn't have the heart so we decided to take a shot at socialization.
http://www.thecatsite.com/forums/sho...d.php?t=168965
There is a little tuxie female and an orange and white male. We think they are about 10-12 weeks old. I have some pictures I will post later. Right now we have them in a cage in our spare bedroom. We let them run loose for a little but I hate scruffing them to put them back in the cage. Plus, I don't really know if that is good or not. I had done a lot of research since we got them, which was Monday. We bought the beechnut chicken and chicken broth and they love it. They will lick it off of our fingers and even come right up to eat out of the jar. The little girl is much more outgoing than the male and I try to make sure we give them both equal attention.
However, they are still quite scared and do occassionally hiss. They don't bite or scratch but you can tell they are still scared. I found lots of great info on the web but am really looking for advice from experienced people. What worked for you? Are there any tricks? I want them to trust me and I know that is what it's all about. Obviously I have never done this before but I really want it to work. I would love to be able to keep one (or both
) of these
babies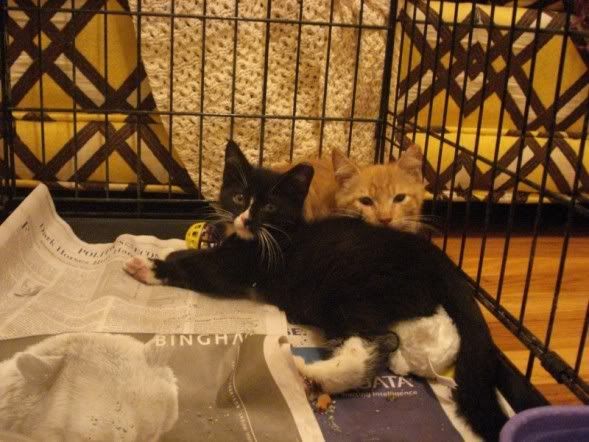 (This is from Monday, the first night we had them here.)