On Monday at the shelter I saw a new cat, not unusual, but this one was crouched in a litter box in a corner and he had obviously been attacked and was very unhappy. I took him out and he immediately began to purr and rub himself all over me. Then he flipped over and invited me to rub his tummy, while he threw his head back in ecstasy. You know where I am going with this. He is all white (and I am a sucker for white cats) with gorgeous green eyes, and the sweetest nature. He is not at his best in this picture because he is not well.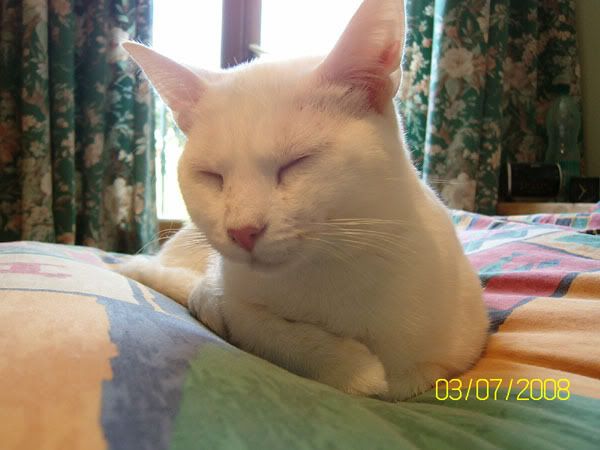 I asked about his history, and it is sad. He came into the refuge last year, was adopted by a single woman, who brought him back this weekend saying she no longer wanted him as he was too energetic for her. He was being bullied by some of the other cats and the Director had tried putting him in a cage but he was just too miserable. So they begged me to take him home, at least for a while, and see if I could integrate him with mine. I didn't take him Monday, but I had to go back on Tuesday to collect Samantha as she was spayed on Tuesday morning, and poor Milo was still in his litter box and looking worse than before. So I now have him at home.
He didn't eat on Tuesday night, but I didn't worry. However, as of this morning all he had in 48 hours was a little fromage frais (a sort of runny cream cheese) that he licked from my fingers, and he is very lethargic, though still affectionate. So it was off to the vet this morning and the poor little boy has an ulcer on his tongue which is causing an infection and a fever. No wonder he couldn't eat. Now he has antibiotics and I have made him a nutritious soup which I am feeding by syringe and he already seems perkier.
But how could someone abandon this cat? People do make me mad. I still don't know if I can keep him or not, but I am certain he will never go back to t he shelter - either I or one of my friends will give him a home.