The X-Pack is now over a month old, and just as sweet as can be!
In fact, as I write this, I have Calypso and Davy passed out in my left arm pit (poor guys!
), Jack zonked on my left shoulder, and Tortuga fast asleep across my chest. Typing isn't easy! Never mind, typing woke them up, now I have a chorus of purrs right in my face. Sao is crashed at my feet.
Now, pictures of the one month olds!
We had some good girl bonding:
The girls curled up in their foster mommy's arms! (Tortuga on the left of the pic, Calypso on the right)
Help! Tortuga is melting off my arm!
Look at those little faces!!
Lyppie saying "MUST you wake me just for silly pictures??"
Nothing wakes Tortuga!
Their first exposure to a laptop!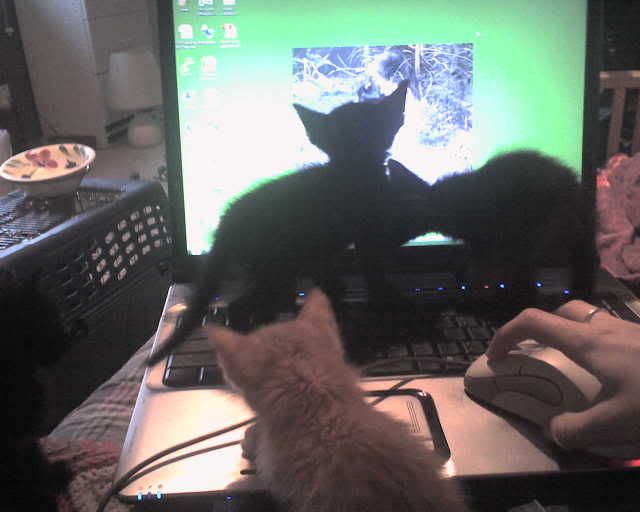 "What is this thing? Oh, feels nice on the toesies!"
Davy Jones is just like his Auntie Evie: "I like this new bed, thanks foster mommy!"
Two whole seconds later, he is OUT: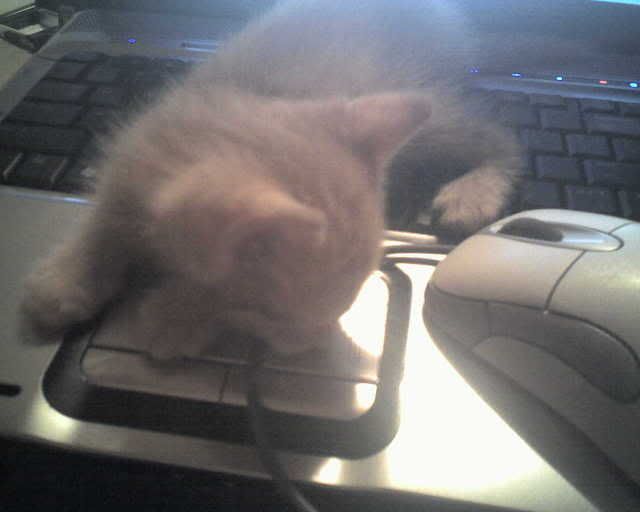 While Davy bonded with his new best friend, the others settled for their old foster mommy: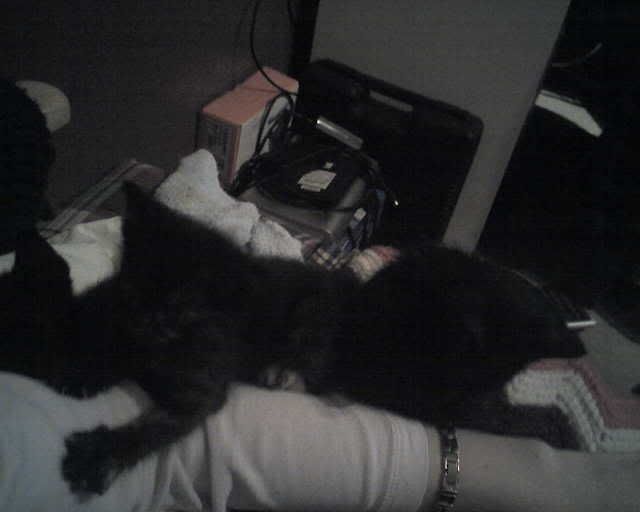 And just for kicks, a TERRIBLE quality but very funny video. Hubby and I were spending time with the X-Pack, and for the first time sat on the couch instead of the floor. Well, the kids did not approve! We were eating, so left them on the floor and had our legs up on a crate. (They know how to climb pant legs, do it all the time, even though we were always on the floor before!). Well, tenacious little Lyppie took about two seconds to figure out how to get up anyway! We put her right down, and I started recording with my cell to see if I could catch her again.
Sure enough, a few seconds after putting her down, you can see her climb up the crate, jump over to her foster daddy's legs, use them like a bridge, and end up right in his face! What a tenacious little girl.
(You might want to keep the sound down, Hubby tells Lyp "NO!" at the end when she tries to sniff his food, might blow your ears out!).
*Update: I now have Jack across my chest, Lyp at my left elbow, Sao at my butt, and Davy and Tortuga are off pigging out! (They are the big babies now, and want to keep it that way.
)