I took some pics last night but I missed out some of the 'ponies' because they were out in the fields. I'll show you a few now though and when I go again on Saturday I'll take some of the ones I missed, and post a thread on them. I couldn't get many pictures of their bodies, but it was a case of them being in the stable when we arrived, in the lesson with us, and then straight out to the field so apart from Patch I had to take them when we got there.
Here's a few to cure your need to see them!
This is
Ted
. He's around 16.1hh but cannot be ridden by adults because he keeps going lame.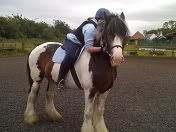 This is
Patch
. He's about the same size as Ted but hasn't yet been classed as a pony
And this is
Paddy
. He's a 17hh TB but I still can't ride him because the owner says he can only be used by light riders.
But in a way that's a blessing because I never liked riding him anyway.
I'll post a proper thread on them all at the weekend when I've taken some more, I seem to be hijacking your thread now
Sorry about that
Enjoy the pics!